If you follow me on Instagram you know that I am obsessed with eggs 🙂 I pretty much consume them every single day of my life. While I love the taste, I also appreciate the amazing health benefits. They are truly one of the most balanced foods out there, being full of healthy fat, protein, and nutrients! When it comes to selecting eggs, I like to read labels and purchase from reputable brands.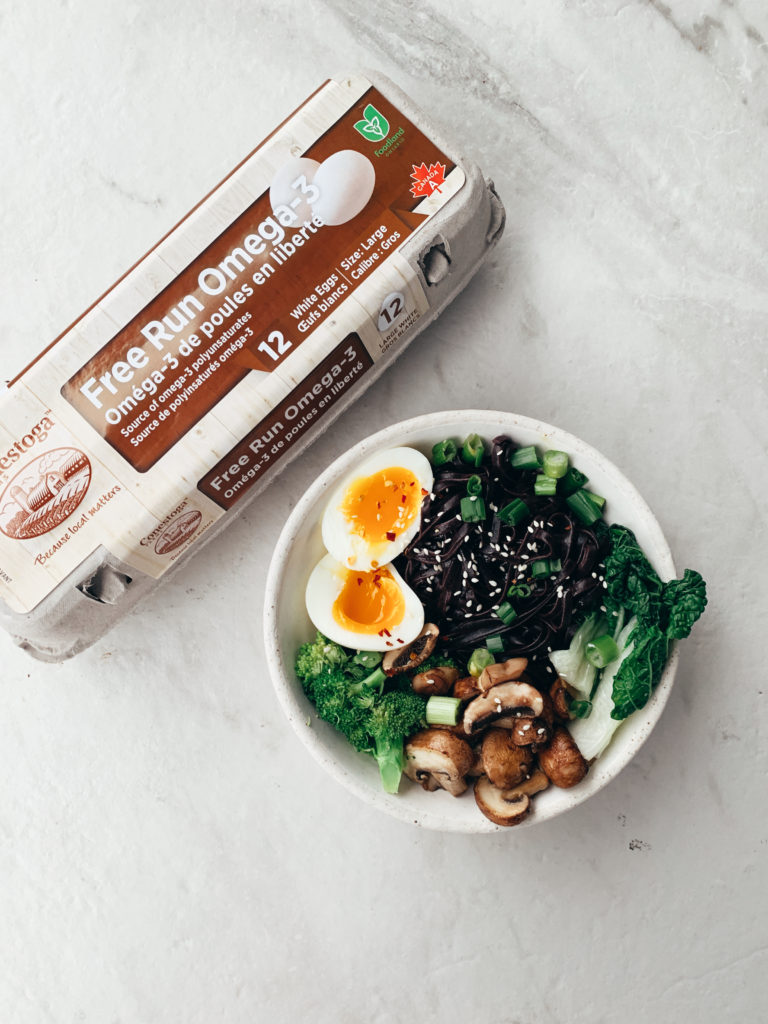 For this recipe I used Conestoga Farm Eggs and here's why: 
I like that Conestoga Farms works with farmers in Southwestern Ontario and offer local, wholesome, premium eggs! They also offer a variety of eggs including free range, free run, and organic. For this recipe I used Conestoga free Run Omega 3 eggs. 
Why Omega 3? 
While humans are pretty incredible creatures, we actually can't produce all essential nutrients ourselves. This means, we must get certain nutrients such as essential fatty acids from the diet. Omega 3- are essential fatty acids required for normal development of the brain, nerve tissues and eyes. Eggs are also packed with choline which is essential for brain health. 
Recipe details! 
I live in Toronto, and it's already freezing here (that's Canada!) so It's officially comfort food season. I decided to make a warm soba bowl topped with a soft boiled egg for protein and extra nutrients 
Print
---
Instructions
In a bowl combine cooked soba noodles, steamed broccoli, sauteed mushrooms, bok choy, green onion and a soft boiled egg.
For the sauce- 1 tbsp coconut aminos, 2 tsp sesame oil, 1 tsp honey, 2 tsp sriracha
For the eggs I boiled water and then add in 2 eggs and cook for 6 minutes and 30 seconds. I immediately transfer the eggs to an ice bath for 3-5 minutes. This stops the cooking and make the eggs easier to peel.
Thank you Conestgoa for this awesome partnership! I always love working with like minded brands 🙂 For more info please check out the Conestoga Farms site 🙂