I feel like breaded chicken gets a really bad rep! People hear the word "breaded" and assume it's unhealthy. The issue with breaded chicken is that it can be very high in sodium and carbohydrates (depending on how much breading is used) and the typical store bought breadcrumbs are made from refined white flour. The thing is, you shouldn't avoid carbs, you should just opt for ones that are better quality.
For my breaded chicken, I use half the amount of breading that is typically called for and I go with Shasha Co organic spelt bread crumbs (which you can find at Loblaws $5.99 or Walmart online ). Shasha is a Canadian company that offers great quality products. I think they got super popular from their ginger snap cookies, which makes sense, because they are seriously addictive and amazing.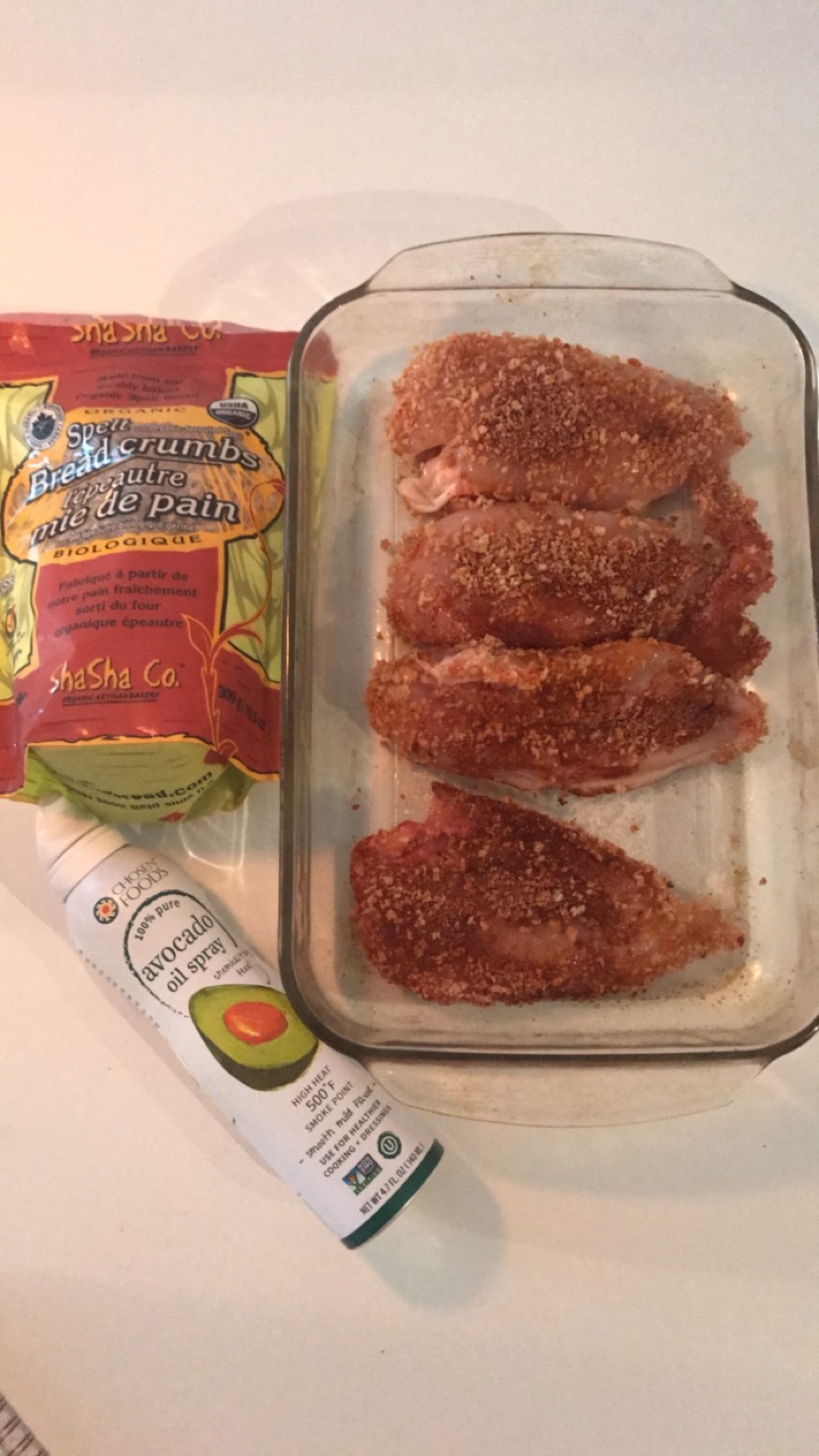 Also, rather than frying the chicken, I cheat by spraying Chosen Foods Avocado Oil Spray which really helps to crisp it up. I use a ton of Chosen Foods products. You can use my code IHART20 for 20% off! (because of duties, this code may be best if you live in the United States).
Truth- I get very bored of plain chicken breast! When I come up with recipes I have 2 things in mind: 1. it must be healthy, 2. it must taste good. Hope you guys enjoy this VERY easy recipe!
Print
4

boneless skinless chicken breast

2

eggs, whisked

1/2 cup

spelt bread crumbs

1 tbsp

paprika
just less than 1 tbsp garlic powder
salt & pepper
avocado oil spray (optional-but amazing if you have)
---
Instructions
Preheat oven to 400 degrees F
Line a baking sheet with parchment paper
In a small bowl mix together the bread crumbs, paprika, garlic powder, 1/2 tsp salt & a dash of pepper
In a separate bowl, whisk 2 eggs
Dip each chicken breast into the bread crumb mixture, and lay flat on the baking sheet. Make sure to use all of the seasoning! Sprinkle the extra breading on each piece of chicken!
Spray the top of each chicken breast with avocado oil spray, this helps the chicken crisp up in the oven.
Bake for 40 minutes, flipping halfway through
Notes
I love eating the chicken as is, or cutting it up into a salad!