Everyone has been asking about my one pan baked fajitas. I had my sister over last night for a light dinner and we cooked just that! This recipe is the perfect week night dinner where time is on a crunch, but bursting flavours are of the essence. Introducing baked fajita night!
Some of you have been expressing that you want to start cooking chicken, and this no-mess recipe is a great starting point. Place a piece of parchment with a baking sheet, and throw in your favourite fajita ingredients. Mine happen to be a classic mix of onions, peppers, and chicken. Easy Peasy!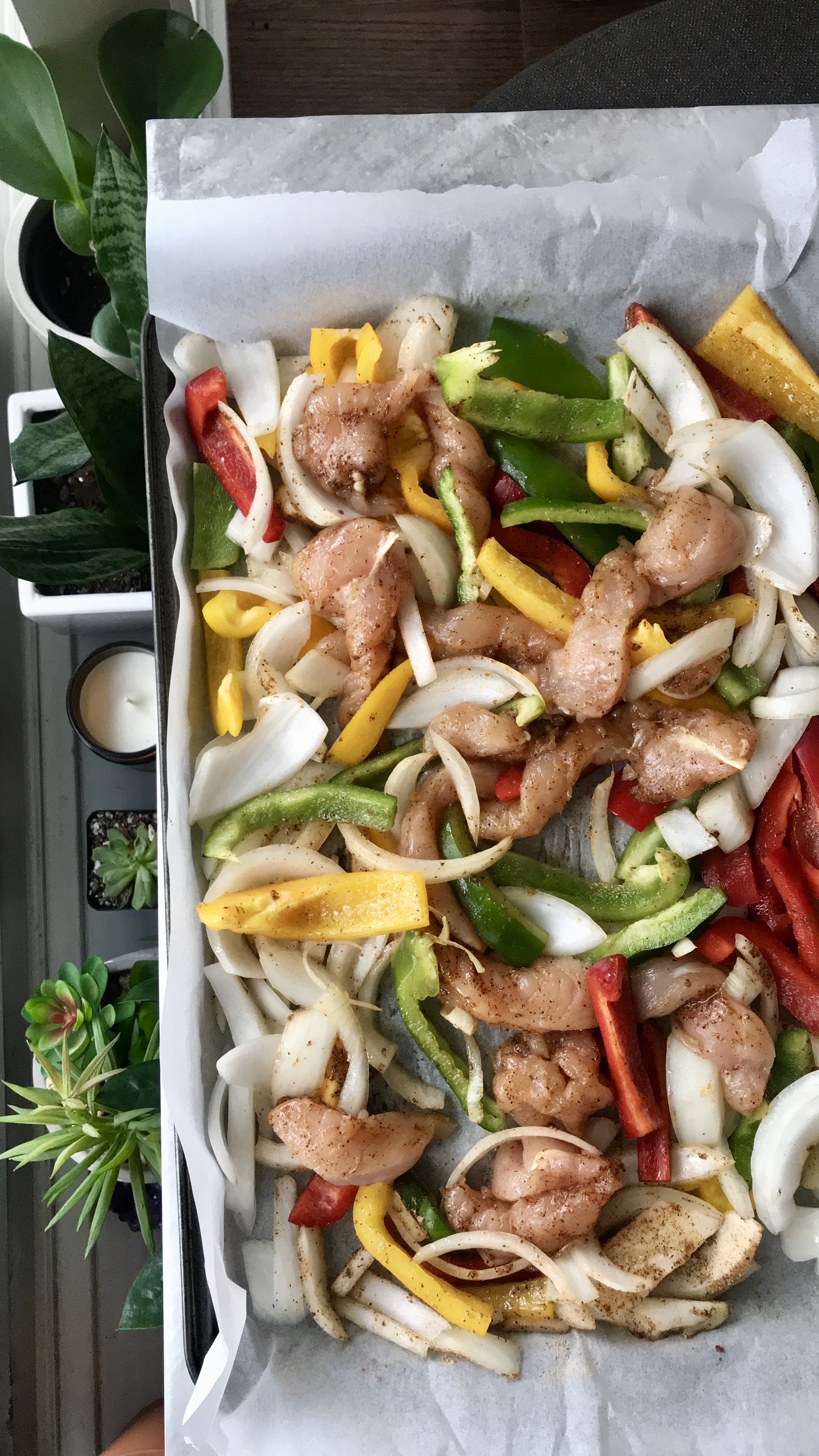 Begin layering your pan, first with the veggies, then then chicken, and top it off with avocado oil, and your favourite taco or fajita seasoning (if you don't have one stick to paprika, garlic powder, chili powder, pepper, salt). Mix it all together with a cooking utensil.
While that's cooking, chop up some fresh romaine lettuce, smashed avocado or guac for your health fat. For the fajita wrap, I opt for La tortilla factory wraps.  This lets me double or triple up on my fajitas as they're high in fiber and low in carbs. Fill up your fajita, and top if off with your hot sauce of choice.
Enjoy!
Disclaimer: the only mess you'll see in this recipe is when your gobbling it down! Keep napkins close by 😉
Print
1

large onion, sliced into thin strips

1

red pepper, sliced into thin strips

1

green pepper, sliced into thin strips

1

yellow pepper, sliced into thin strips

2

–

3

boneless skinless chicken breast, sliced into thin strips (1/2-inch thick strips )

2 tbsp

avocado oil or olive oil
Fajita Spice
if you're feeling lazy you can use 1.5 tbsp of a store bought taco or fajita seasoning
To make your own- mix together 2 tsp chili powder, 2 tsp garlic powder, 2 tsp paprika, 1 tsp cumin, 1/2 tsp salt
---
Instructions
Preheat oven to 400 degrees. Line a baking sheet with non stick cooking spray or parchment paper. ( I prefer parchment for an easy clean up)
Spread the veggies ( peppers and onions) onto baking sheet. Make sure the onions aren't sticking together to ensure they cook properly.
Top with chicken strips then sprinkle with the seasoning.
Drizzle avocado oil all over and toss everything to coat. Try to make sure everything lies flat without overlapping too much ( if you spend more than 30 seconds on this, it means you're being too much of a perfectionist)
Cook for 25-30 minutes until chicken is cooked and veggies are soft.
Remove from oven, and serve over rice or in your fav tortillas!
I like serving with avocado, lettuce, salsa & hot sauce!