Oh hiii everyone! 
Did you know I swapped to sulfate & paraben free shampoo and conditioner? It's been around 6 months since making the swap, and my hair is feeling great! So here's the backstory:
This past summer Aveeno Haircare reached out to collaborate on their oat based line of shampoo + conditioner which are sulfate, paraben, and dye free! I was very excited about this initiative. I love when big brands make mindful swaps like these that are still affordable while offering a higher caliber product. The Aveeno Haircare collection is infused with wholesome and farm fresh ingredients that promote a healthy scalp while nourishing hair strands from root to tip.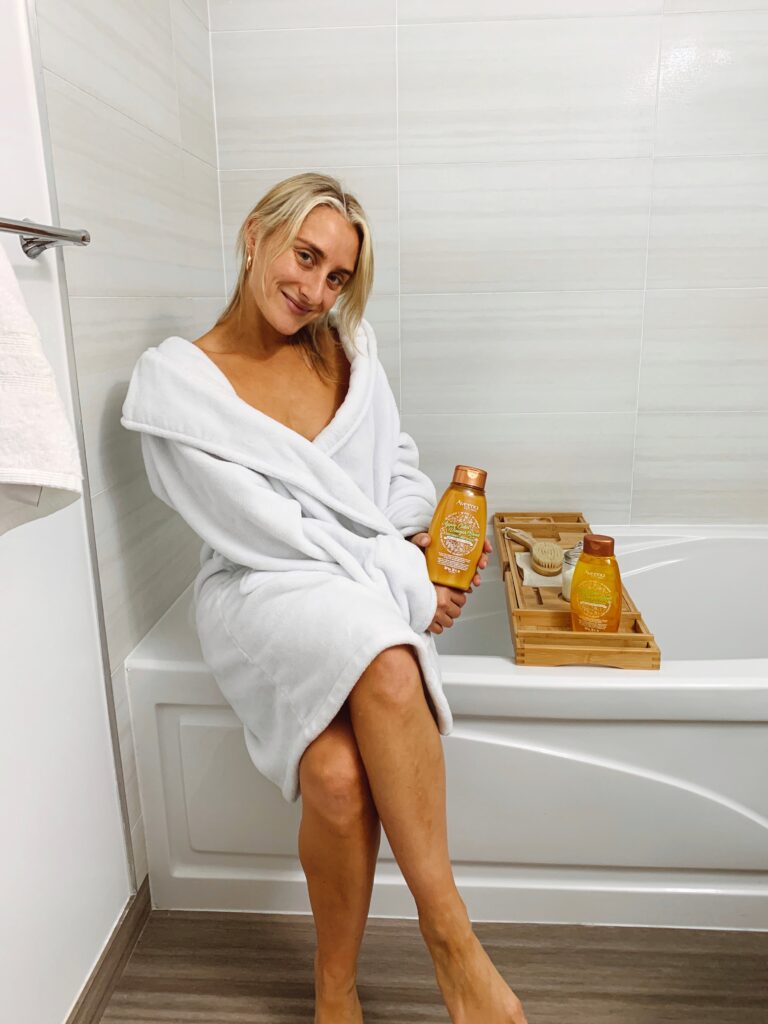 For part of the collaboration, I had the opportunity to create a nutrient dense recipe using the same ingredients found in their Fresh Greens Blend Collection! Oats are the first ingredient in the collection's shampoo and conditioner and is infused with cucumber, peppermint, and rosemary. It kind of felt like a master chef situation where I was able to experiment with ingredients and formulate my own masterpiece! I ended up creating a kale harvest bowl. See below for recipe details!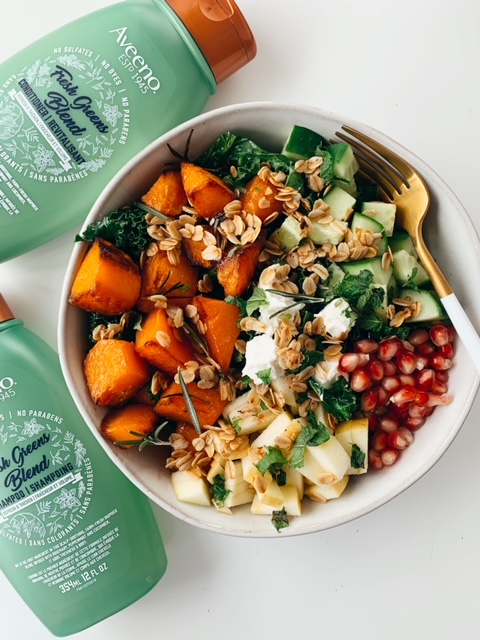 Print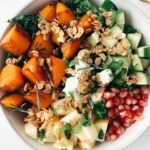 Harvest Kale Bowl with roasted rosemary butternut squash
---
For the salad:
2 cups peeled and cubed butternut squash
2 sprigs fresh rosemary, stems removed
1 tbsp extra virgin olive oil
4 cups kale, de-stemmed and chopped
½ honey crisp apple, chopped
½ cup pomegranate seeds
¼ cup fresh mint, chopped
1 cup cucumber, chopped
4 tbsp goat cheese
For the dressing:
¼ cup extra virgin olive oil
3 tbsp fresh lemon juice or apple cider vinegar
1 tbsp pure maple syrup
½ tsp sea salt
Pepper to taste
Pan fried oat topping:
½ tbsp extra virgin olive oil
¼ cup oats
---
Instructions
Preheat the oven to 400 degrees. Place squash on a lined baking sheet and toss with extra virgin olive oil, salt, pepper, and rosemary. Roast for 20-25 minutes or until tender. Remove from the oven.

On medium to low heat add the olive oil and oats to a pan. Heat for 4-5 minutes, stirring until the oats are slightly golden and crispy. Remove from the pan.

In a small bowl or glass jar whisk together the salad dressing ingredients. In a large bowl add the chopped kale, and drizzle with the salad dressing and mix well. Let it sit for 5 minutes to let the flavours come together.

Top the salad with the remaining salad ingredients and the oat topping.
My review of Aveeno Haircare's Fresh Greens Blend Collection: 
The products feel super moisturizing and soothing on my hair, and I especially love the scents! I have naturally thin and dry hair so my favourite products from the line have been the Fresh Greens Blend collection which help with thickness and body. I love the hint of peppermint and rosemary- they make my hair feel clean, refreshed while lightweight at the same time. To be honest the highlight for me is knowing that the products are free of parabens, sulfates, and dyes. I feel comfort in knowing that I'm washing my hair with wholesome ingredients. Oats are extremely hydrating, which makes it a great product to use in the winter, but also year-round! 
5 reasons I HART oats
The Fiber content in oats increases hair growth

Oats contains b vitamins like b12 and riboflavin important for strong hair

Oats stimulate hair follicles to promote thick hair

Oats are hydrating so they can soothes a dry scalp

Oats contain vitamins and minerals to nourishing your scalp and reduce dandruff 
Aveeno has a selection of different scents- click here to learn more! Have a great day everyone!
#AveenoHair #ad