You guys know I'm extremely conscious of what I put into my body, simply because I believe what I put into it is what I'll get out of it. And with the world around us becoming more and more sustainable, plant-based, and generally aware of the benefits of focusing on health and wellness, it's becoming easier and easier for me to branch out and incorporate different products in my day to day.
Gone are the days of "hippy dippy" shampoos, soaps, foods, and drinks etc. that leave a sour taste in your mouth and nose. Taking care of yourself, your body, and our world has never been easier or more important.
That's why it's such an honour for me to be working with one of my favourite brands again (shout out Aveeno!) Aveeno Haircare constantly breaks the mould when it comes to what to expect from beauty brands, and making my switch over to the conscious side, a breeze.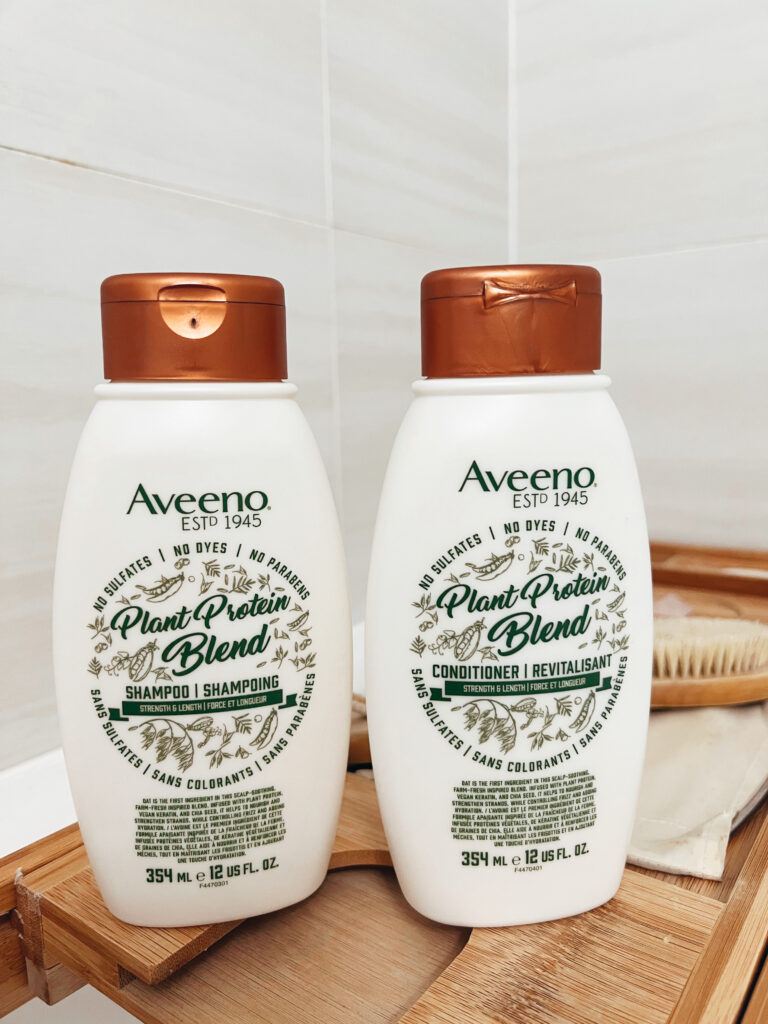 As a Holistic Nutritionist, my passion for wellness far exceeds the kitchen. It touches everything I encounter in my days. So when I noticed that Aveeno created a haircare line free of harmful ingredients I was very excited! Aveeno Haircare recently launched their Strength & Length Plant Protein Blend Collection which is free of parabens, sulfates and dyes. The Plant Protein Blend Shampoo and Conditioner harnesses the power of the nature to strengthen, lengthen and soothe frizz as the first step to protect hair against humidity. The star ingredient is none other than oat — a staple ingredient known for its soothing and moisturizing benefits, and more recently a staple ingredient in many health foods and drinks. Oh, and it's available at Shoppers Drug Mart here, meaning you can rack up those Optimum points, too.
I know the words parabens and sulfates are buzz words these days, but there's a reason you should try and avoid them. Not only do sulfates tend to leave your hair brittle and broken, but they also strip your hair of its natural oils. And parabens? If you want to avoid an irritated scalp, dry hair, flakes, and potentially hair loss… Then avoid parabens.
Having to compromise your beliefs and morals in order to enjoy what you want out of life is a thing of the past. Shelves are full of products that are geared towards a more conscious, plant-based, and eco-friendly imprint. I have been super pleased with the Aveeno Haircare line! The products smell amazing, and feel great on my scalp.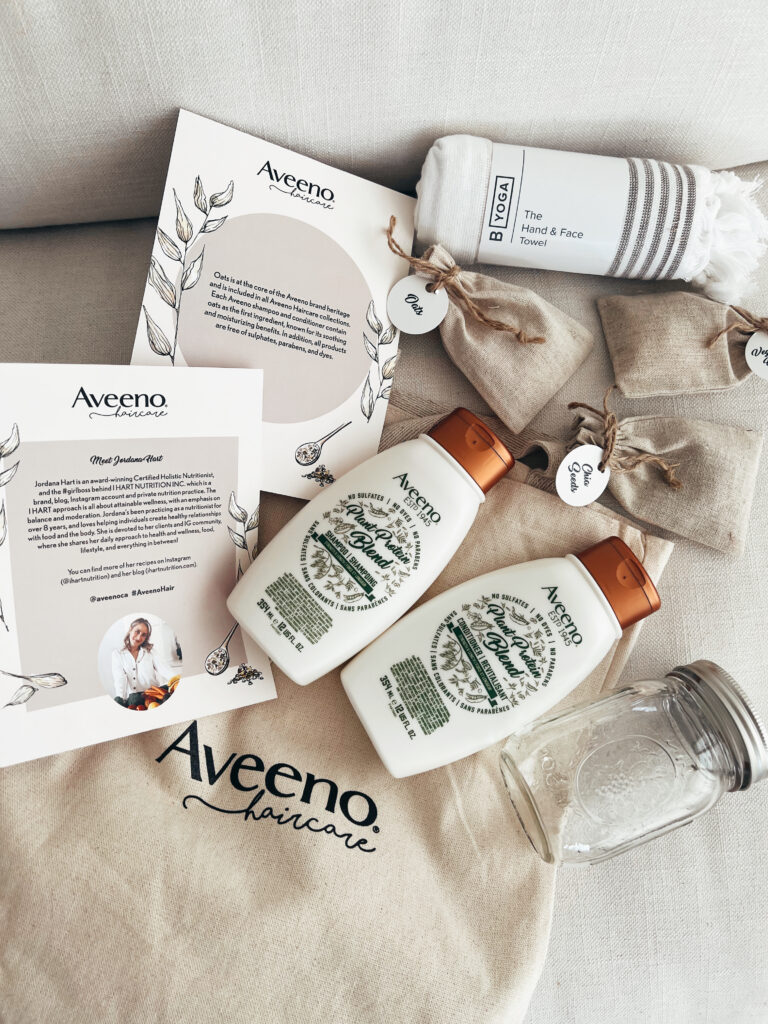 P.s. Aveeno Haircare sent out a press kit to content creators across Canada, and I had the honour to create a plant based smoothie recipe! It was a very cool experience 🙂 Here's what I came up with:
Plant Based Strawberry Oat Smoothie:
Recipe:
1 scoop vanilla protein
1/2 frozen banana
1/2 cup frozen strawberries
handful of baby spinach
1 tbsp almond butter ( or your favourite nut butter)
1 cup unsweetened almond milk
1 tbsp oats
1 tbsp chia seeds
1/2 tsp cinnamon
Directions:
Blend everything together in a high powered blender.
Add in some ice for a thicker consistency, and add in some water for a thinner consistency.