'Tis the season for holiday shopping! I've rounded up 20 of my absolute favourite products (over and under $100). For the most part, these I HART ESSENTIALS make regular appearances on my IG, and almost all of them can be enjoyed from the comforts of your home, making them the perfect gifts for the the homebodies in your life (even if that homebody is YOU!). After all, it is 2020 and being a homebody is our social duty! Happy Shopping!
An Everyday Water Bottle ($35): Who says water bottles can't be pretty? If you know me you know I'm an H20 all-day-every-day kinda gal, and for that reason I LOVE water bottles (especially pretty ones like this sleek Rose Gold one by FWD). Its slim profile makes it the perfect gift for anyone who's always on-the-go, because it can be stored almost anywhere.
Scented Candle ($32): Scented candles are a basic household necessity in my home, and I love discovering new scents and brands. I just came across this local Toronto brand called 100 Years of Love. Their products are cruelty- free, vegan, and the branding is simple and clean to blend with any decor.
Green House Plants: ($20+): Are you or your loved ones working from home? Create a zen at-home office with some greenery! I love snake plants & succulents (easiest to keep alive) Homebody Collective is a great spot for plants and decorative pots and planters, which I discovered at One of a Kind Show a few years back!
Sleep Mask: $20: Sleep masks are one of the most underrated gifts! You guys know how important sleep is, and sleek masks are a great way to get zen and fall into a deep sleep. This Sleeping Mask by Go Girl Gifts can be found on Blackownedto.com, and is an amazing website that supports black-owned businesses in Toronto.
A Long-lasting Lipstick or Gloss ($28): A little lip colour goes a long way on zoom meetings or virtual hangouts! This Toronto-based beauty shop Haley Bogaert Face (HB Face) is a great way to support local, and they offer so many lovely beauty products and services!
Winter Hand Cream ($35): This year more than ever, moisturizing our hands and body on the daily is so important, especially because we're washing and sanitizing our hands so often. I love this cream by Nécessaire because of its simple, yet nutrient-dense ingredients. Plus it's fragrance-free if you don't want it to compete with your other daily scents!
5-Minute Journal ($27): A good journal. Yup, I've set it before a million times on my IG, but journalling is one of the best ways to start the day feeling grounded and set up for success. I love my 5-Minute Journal from Indigo, and it's a great gift for someone who needs a reset (…though don't we all?)!
Bala Bangles ($68): Perfect for fitness lovers, these 1 pound weights called Bala Bangles add resistance to any workout, and can be worn on the wrist or ankles!
Salt Lamp ($40): Give the gift of ZEN with a Salt Lamp, which offers a number of benefits from creating a calming effect, to improving mood, and purifying the air.
Bloat Capsules ($47): The holidays are filled with lots of eating and drinking, which make these organic bloat pills by Arrae a great gift for anyone! They incorporate digestive enzymes to target bloating + digestion. I personally know the founder, and I love supporting a local girl boss who created a killer product that's non-gmo, organic, vegan and filler free!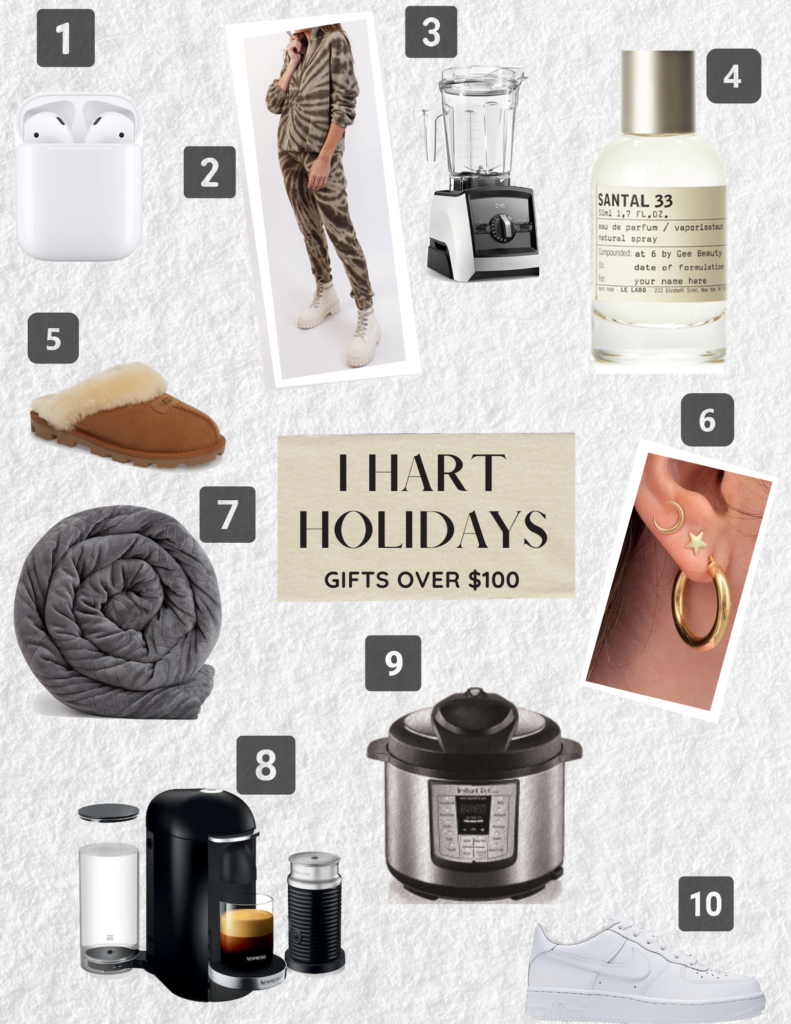 Air Pods ($219): Hello hands-free! Whether you're tackling food prep while listening to your favourite podcast, or taking a meeting while getting some steps in, Air Pods are great gift or anyone with an active lifestyle.
A Loungewear Set ($140): Sets are the perfect outfit to lounge in over the holidays, and the ultimate upgrade from pajamas if you're working from home! I love this half-zip waffle set from Shop Thursdays, a local Toronto boutique!
Ascent Vitamix 3500 ($725): A splurge gift for sure, but a life-changer in the kitchen! Smoothies, soups, salad dressings, and everything in between.
Le Labo Perfume: ($225) Santal 33 by Le Labo is the quintessential unisex fragrance with a spicy-meets-woodsy scent that makes it simply sublime for the holidays! I get mine from 6 By Gee Beauty ( one of my fav local beauty spots!)
Ugg Coquette Slippers ($150): What better way to gift a loved one than with the coziest of slippers for the holidays and beyond? I have sampled a few sippers over the last decade, and these ones win for quality and comfort! I am usually a size 8 but for these I size down to a 7.
Gold Hoops ($350): Nothing beats a classic pair of gold hoops! They are the ultimate 'final touch' accessory for feeling put together in an instant, and work wonders for virtual meetings! Van Der Hout Jewelery is a Toronto-based online shop that offers inexpensive fine-gold jewelry.
Weighted Blanket ($279): In the year where hugs aren't as accessible from friends and family, a weighted is the next best thing! The 15 pound Twin blanket by Hush Blankets are great for rotating between the bed and the couch, and the perfect way to destress and sleep better. Use the code HART for 10% off!
Nespresso Machine & Aerocinno ($319): This combo is great for coffee lovers and those looking for convenience in their morning routine! Nespresso Pods can be purchased online or in-store, and I always look out for their cozy holiday seasonal flavours!
Instant Pot ($140) For that always-on-the-go person in your life, the Instant Pot will put dinner on the table in less than an hour without sacrificing on flavour.
White Air Force 1 Sneakers ($95): Air Force 1 sneakers have always been my favourite walking/lifestyle shoe. They complete every outfit and come with me on every walk and vacation! I am an 8 and went for the kids 6 which are cheaper and fit perfectly.