Cheese boards are a must have at any gathering! They are delicious, colourful, and the perfect snack before a meal. As a Nutritionist and foodie, I am always finding ways to create healthy versions of the staples I love. And although cheese boards are a crowd pleaser and may *seem* like a healthy alternative to say, chip and dip, they are often not the healthiest way to start off a meal. A conventional board is made up of an assortment of cheeses, meats, heavy dips, and crackers. These foods can leave you feeling full, rather quickly, thus filling up *before* the actual meal has even been served
I had some friends over to celebrate the holiday season and saw this as the perfect opportunity to make a healthy version of a cheeseboard; full of both dairy and dairy free options. When creating an epic cheeseboard it's all about using vibrant colours and different textures. My crackers of choice for this board were Lavash by Ozery, They have actually been a favourite of mine for years because they are clean, and so tasty. They recently changed their packaging to smaller crackers which are packaged individually making them way more convenient and ideal for serving with finger foods. They come in an assortment of flavours including Cranberry & Grains, Organic Spelt, Spple & Quinoa, and Multi Grain & Seeds, but my fave are the Organic Spelt ones 🙂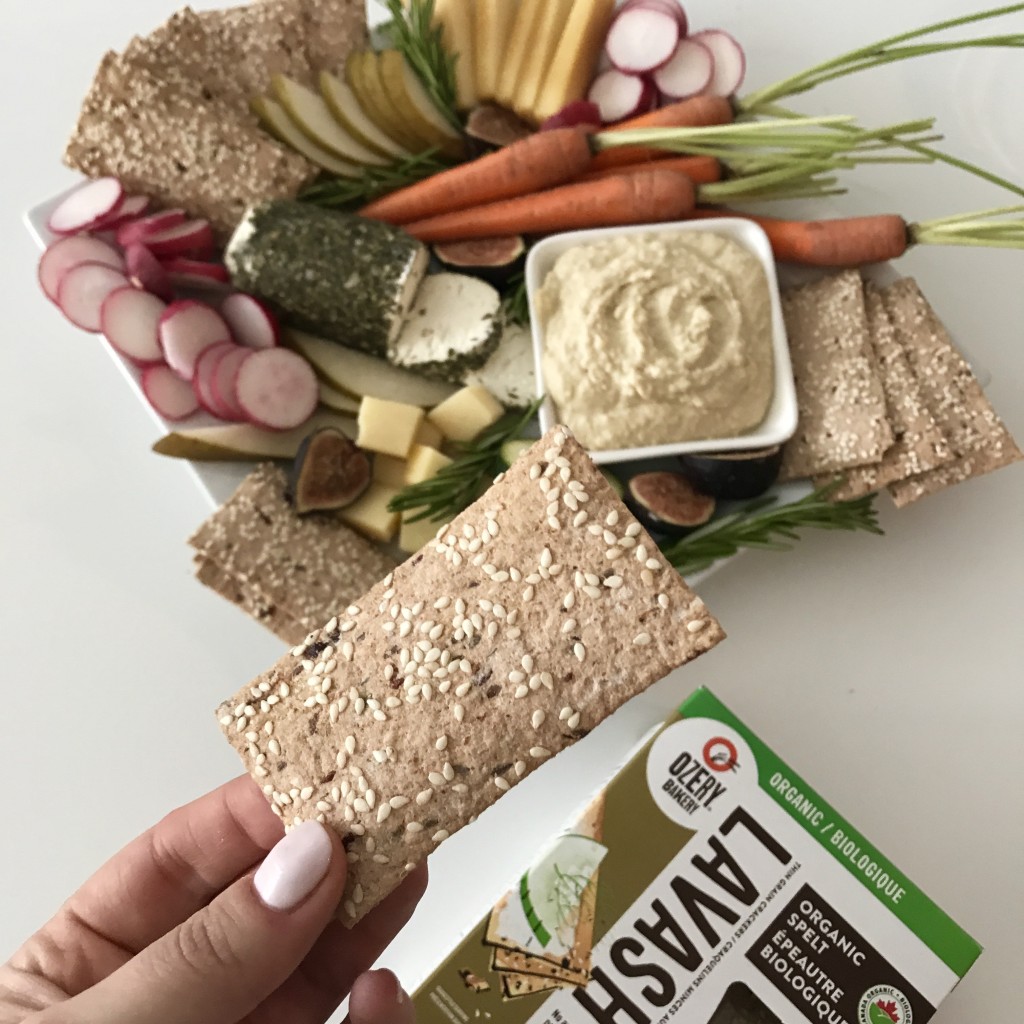 I stuck to goats milk cheeses for the dairy because goats milk is easier to digest than cow's milk. I served dairy free hummus and homemade navy bean beet hummus on the side as well. I chopped up some fresh veggies and then added some fruits for sweetness and nuts for a rich and crunchy addition.
On my board:
Vegetables- I cut up radishes, carrots, zucchini and cucumber (not pictured)
Crackers- Every flavour of Lavash crackers, duh!
Cheese- goat cheese and goats cheddar
Dips- Hummus to have a dairy free option as well as a homemade navy bean beet hummus
Garnish- Rosemary and jams
Fruit- pears and figs ( fresh figs are beautiful- really they make a cheeseboard pop )
Nuts- Pistachios & Almonds
For more info check out: http://ozerybakery.com/