How I went from running 0 times a week to everyday for 7 days
If you have been following me on IG you know I am passionate about health and wellness. I eat well, I work out, and all-in-all I take pretty good care of myself! If I am honest though, COVID 19 hit me pretty hard in many ways. Aside from the obvious impact it has had on my life, it directly impacted my fitness. While I love moving my body, it doesn't always come naturally to me. For this reason, I LOVE group fitness, because it holds me accountable and also gives me a social activity (which I totally took for granted until now). When the city went on lock down and fitness studios closed up shop, I knew I had to take my fitness goals into my own hands. I essentially went from working out 5 days a week to 0. I tried working out from home, but to be honest I couldn't really get into a solid routine. I knew that moving my body was imperative for my mental and physical health, so I decided to go on a walk every single day to move my body and get fresh air. For 3 months, I walked outside every day, and it was amazing! I kept telling myself that I should start running to get my heart rate up, but I was never able to find that "push", if that makes sense.
Right around the time of my internal struggle to 'walk or run', Best Buy Canada reached out to me for a partnership to review the Fitbit Versa 2. Part of the collaboration  was that I would create a 1 week challenge, and stick to it. I had always wanted to try a smartwatch, so this was the perfect way to help hold me accountable. Challenge accepted. I decided to commit to a daily 20-minute run, followed by a walk to get in 10k steps by 9am.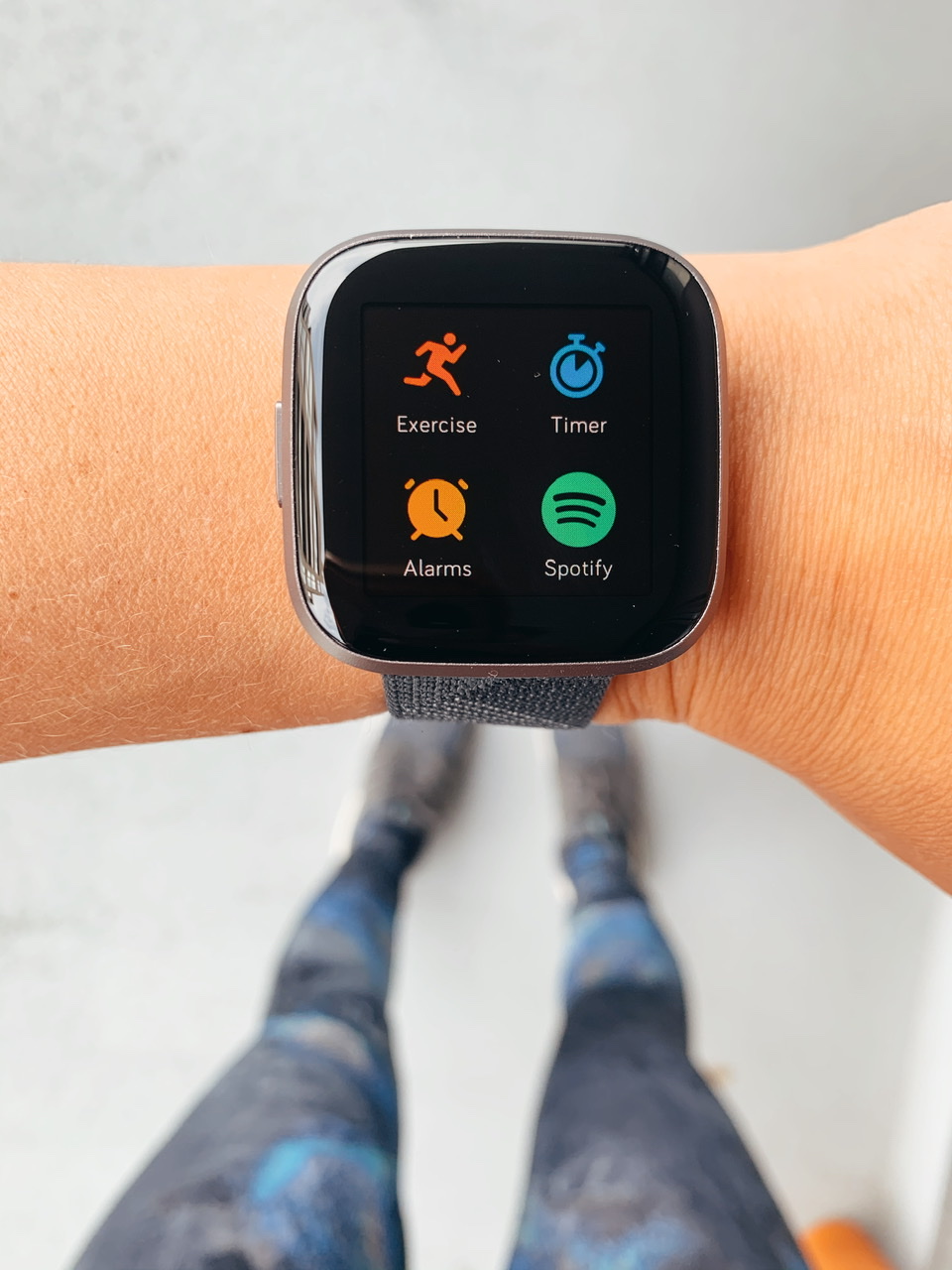 Fast forward to today. I am OBSESSED with The Fitbit Versa 2, and can't wait to use more of the features! I loved starting my day with a run outside. There's something so grounding about starting your day with movement and connecting to nature. It has been so amazing for my stress and anxiety, and I feel proud of myself for pushing myself physically. I can honestly say there is ZERO chance I would have completed the challenge without the help of the smartwatch. I love that you can set whichever fitness goals you have! I strongly believe in 'baby steps' when it comes to fitness, and a 20-minute run combined with a 30-40 minute walk has been the perfect medicine for me. (I recognize this can seem like a lot, or little depending on your level of fitness!)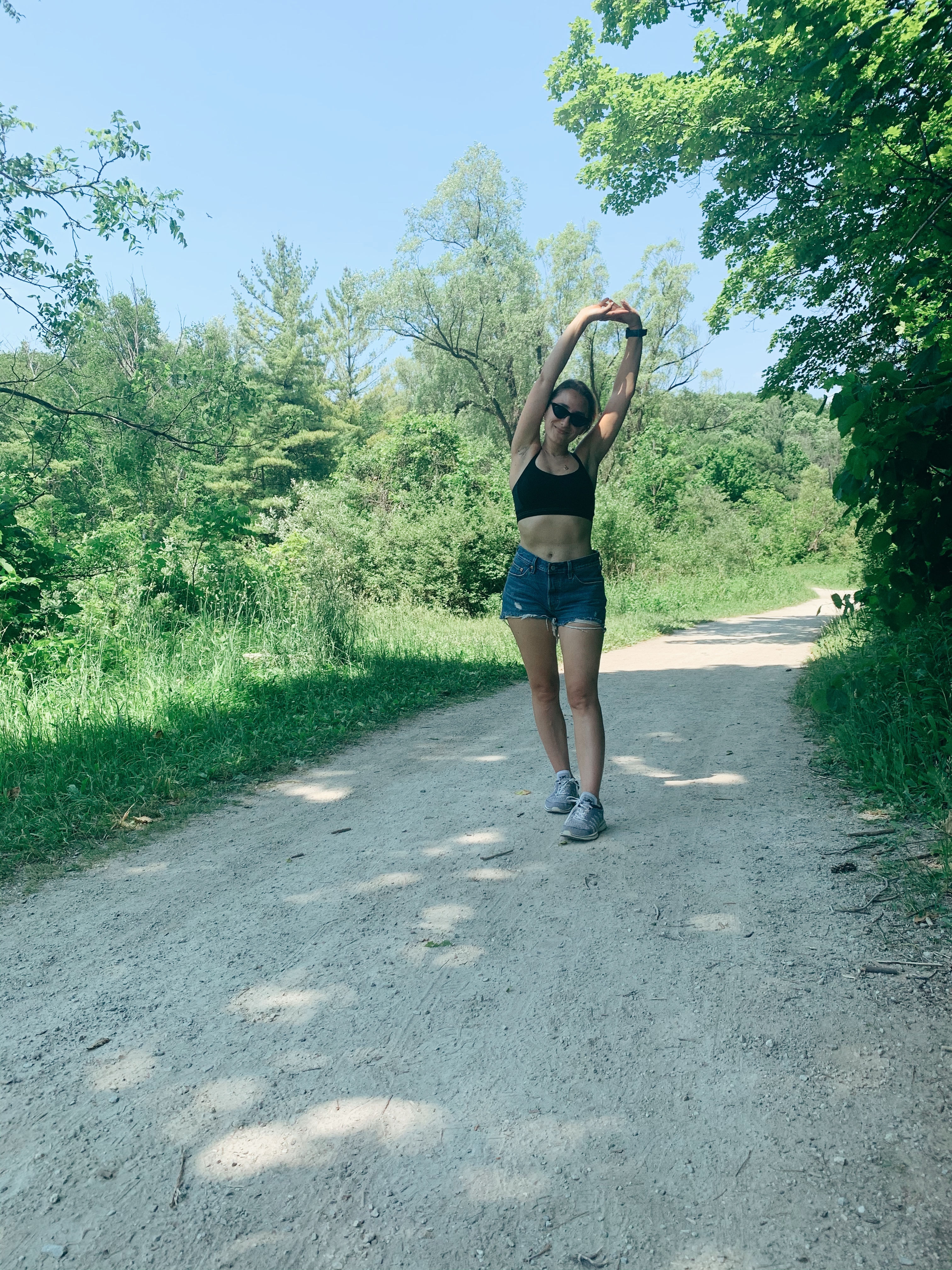 So, here's a little more information about my Fitbit Versa 2!
Product Details:
The Fitbit Versa 2 in this woven smoke colour is exclusive to Best Buy Canada, and comes with 2 band options: 1 woven and 1 silicone band. They also offer a free 3-month trial of the Fitbit Premium service.
It automatically tracks your calories burned, steps taken, heart rate, sleeping patterns, and more. PSA- I am excited to start tracking my sleep!
It helps keep you in the loop by wirelessly syncing with your smartphone for at-a-glance notifications from texts, to emails, social media, and your calendar.This is an amazing feature if you're looking to avoid checking your phone on walks/runs to be as present as possible in the moment.
My personal review:
I never really understood the appeal of a smartwatch until I started using one myself. I love that I am being held accountable for my fitness goals!
There were a couple days where I actually forgot to wear my watch on my morning walk, and it honestly felt so frustrating. It has strengthened my desire to get active, because I love being able to track my results!
The watch itself is sleek and comfortable, and it doesn't conflict with my outfits which is a huge bonus lol
I don't personally care about calories burned but know this is a feature many people love!
I am extremely excited to wear the watch at night and learn more about REM sleep. Sleep is a huge part of wellness and I am curious to learn more about my sleep health
I LOVE that you can enter mini challenges for the day or weekly challenges! It kind of feels like I have a personal trainer.
5 fitness TIPS:
Be realistic with your fitness goal- While I love a good challenge, it's important to be realistic with your goal. After my 1-week challenge, I will aim for running 4x each week, and continue walking daily. That being said, if there's a week I don't feel like running I won't push myself either! It's all about honouring your body and creating a safe and healthy relationship with fitness.
Rest Days- Reminder that your body needs a break! Recovery time is essential.
Routine- If possible, plan to workout at the same time every single day! Once it becomes a habit it will become much easier 
Music- Great music is essential for a great sweat! My fav song continues to be Freedom by Kygo.
Stretch- Something I need to get better at is stretching before/after running! This is important for mobility and preventing injuries.
Best Buy has all the latest wearable tech, check it out on bestbuy.ca by clicking here!
Thank you for reading, and thank you Best Buy for this awesome partnership!
#ihartnutrition