Quick Recap: In September I took a 2 week trip to Tel Aviv, Israel. I went for both work/pleasure and it was a great excuse to see some friends and family that live there. This was actually my 6th time visiting Israel, but the first time travelling there on my own! Tel Aviv is sort of like Manhattan-Meets-Miami (in all the right ways) with way more history and culture. 
In my 2 week visit, I stayed at a few hotels and rented an apartment I loved every part of the trip, but thought my first night hotel stay deserved it's own blog post 🙂 After a 10-hour flight, I knew I wanted somewhere I could be a pool/beach bum while indulging in delicious Israeli breakfast while overlooking the beautiful Mediterrarean Sea (and of course –  have a good night's sleep in luxury hotel linens). This is what The Vista Hilton Tel Aviv is all about. I pretty much didn't leave the hotel for 24 hours (and why would I, amiright?!).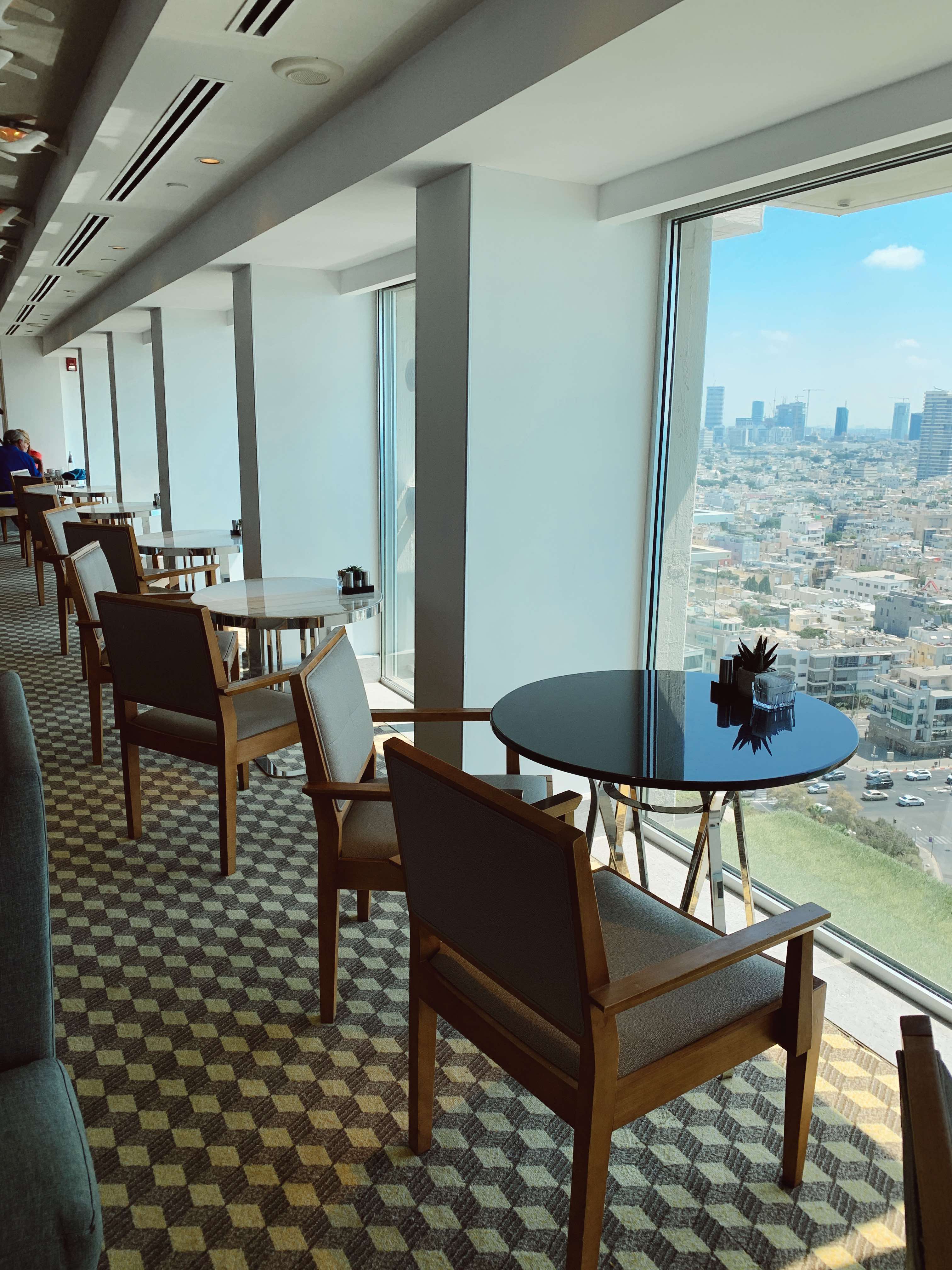 The 'Vista Hilton' is a premium area within the Tel-Aviv Hilton hotel that occupies the top floors of the building. It's unique in that all of the rooms have a sea view and access to a private lounge on floor 17. A huge perk of staying at the Vista is the access to the gorgeous lounge which has, in my opinion,  the NICEST view of Tel Aviv in the city. They serve breakfast, snacks, dinner, and all-day drinks! It even has its own "make your own aperol spritz station". 
Here's a 24 hour preview of my stay at The Vista Hilton Tel Aviv:
Checked into the hotel:
After a 10 hour flight I landed in Israel at 10am, checked into the Hilton and left my bags at the front desk.*When you are landing in a new country it's a huge perk to check into a hotel and feel pampered. Even if the room isn't ready you can typically store your bags safely and just relax by the pool!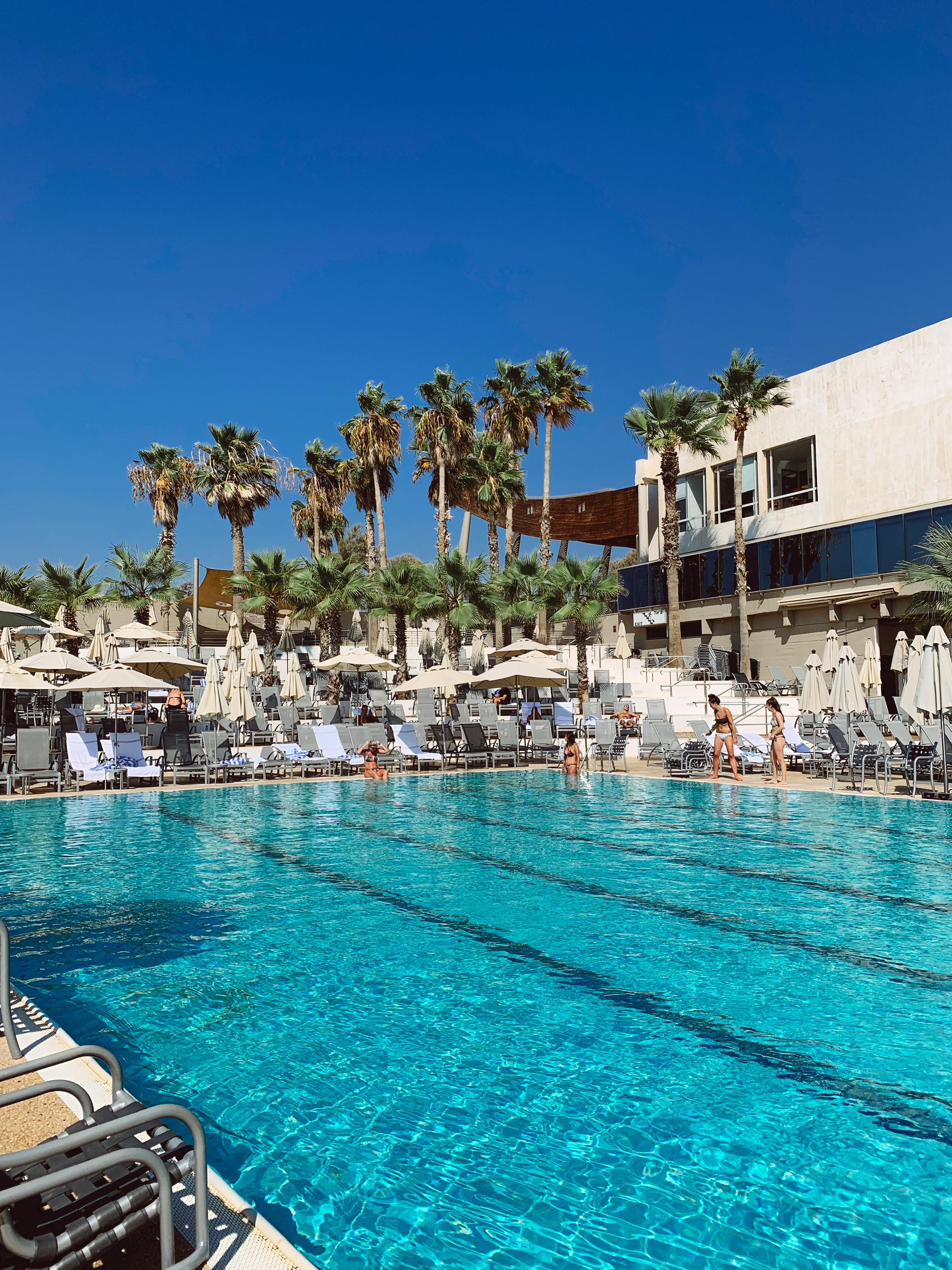 I stashed my bags at the front desk, took out a bathing suit, flip flops, and of course some SPF. My first stop? Food (duh!). So first I went to check out the lounge and enjoyed some fresh fruit, cheese, coffee and water. I was in awe of what was in front of me and just relaxed for an hour taking in the views.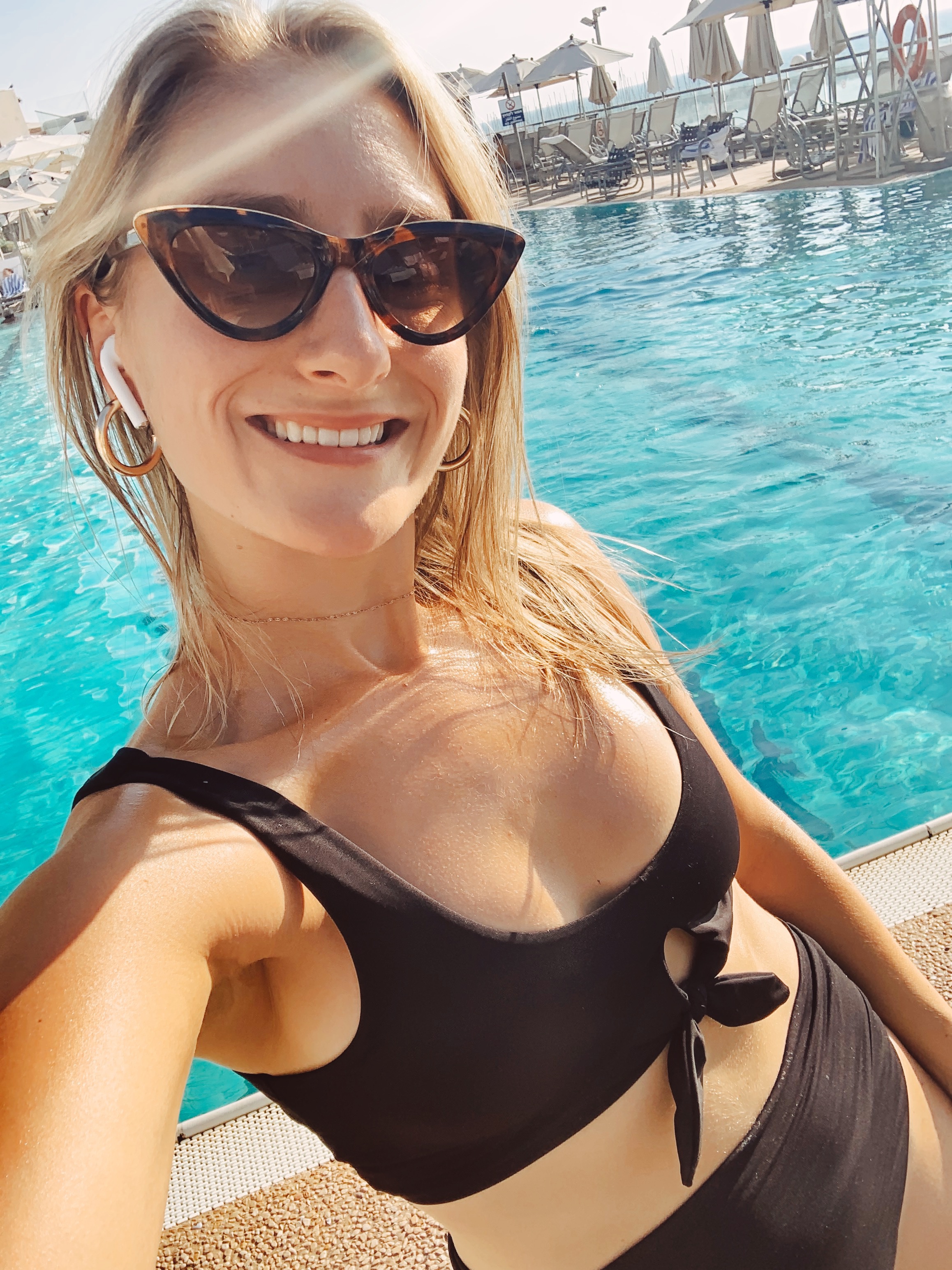 Pool Time!
Shortly after I refueled, I went to the pool for some R&R! The hotel is located right on the beach but I decided to take advantage of the gorgeous pool area because it would be my only pool experience in Israel. It did not disappoint, obviously.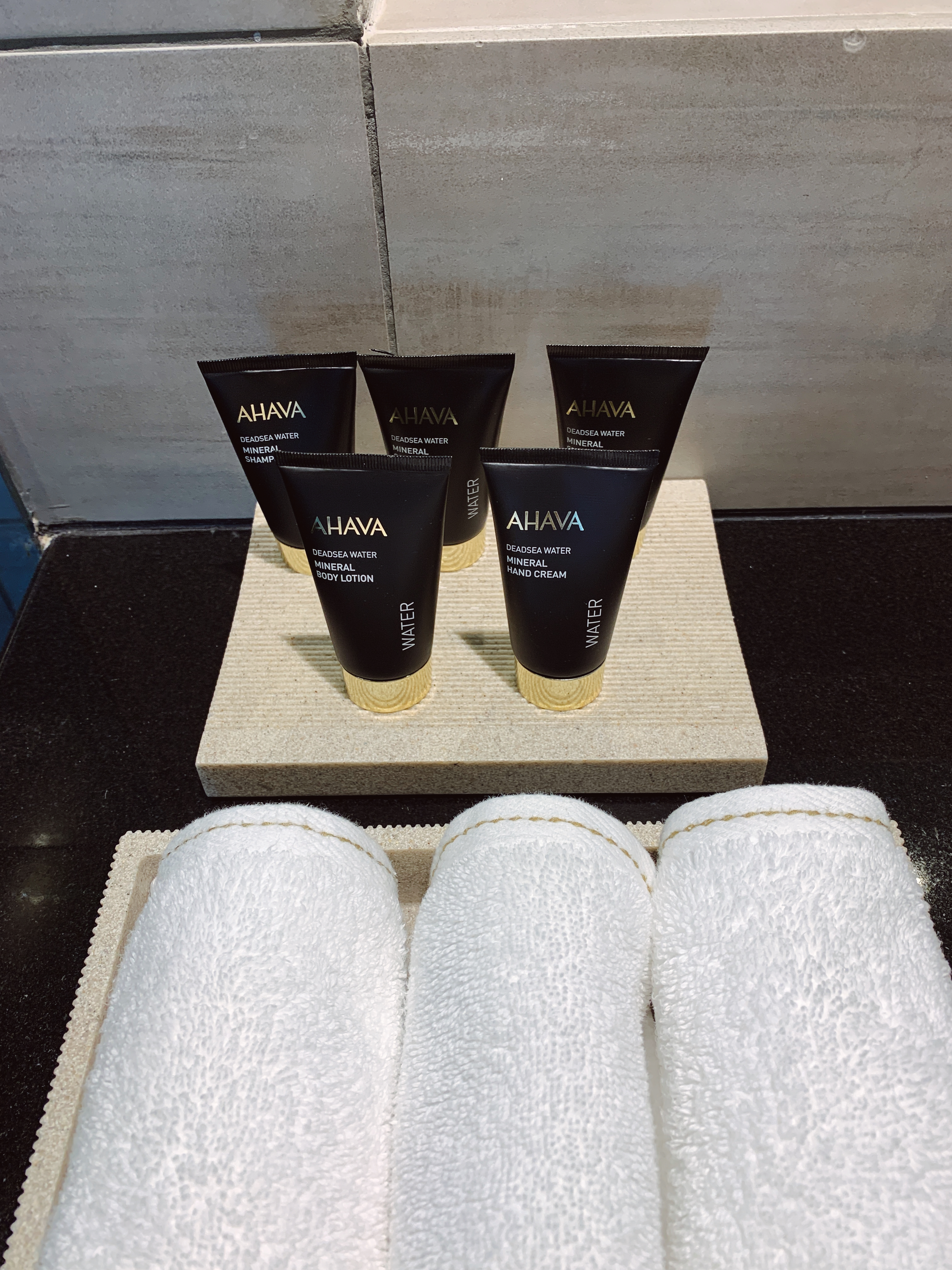 The Hotel Room
By now the room was ready! YAY! The room was pretty large, and had the most breathtaking view of the city. I forced myself to not take a nap because I wanted to avoid jet lag at all costs! P.s major props that the hotel has Ahava products 🙂 Ahava, for those of you who are not familiar, is Israel's famous skin care line.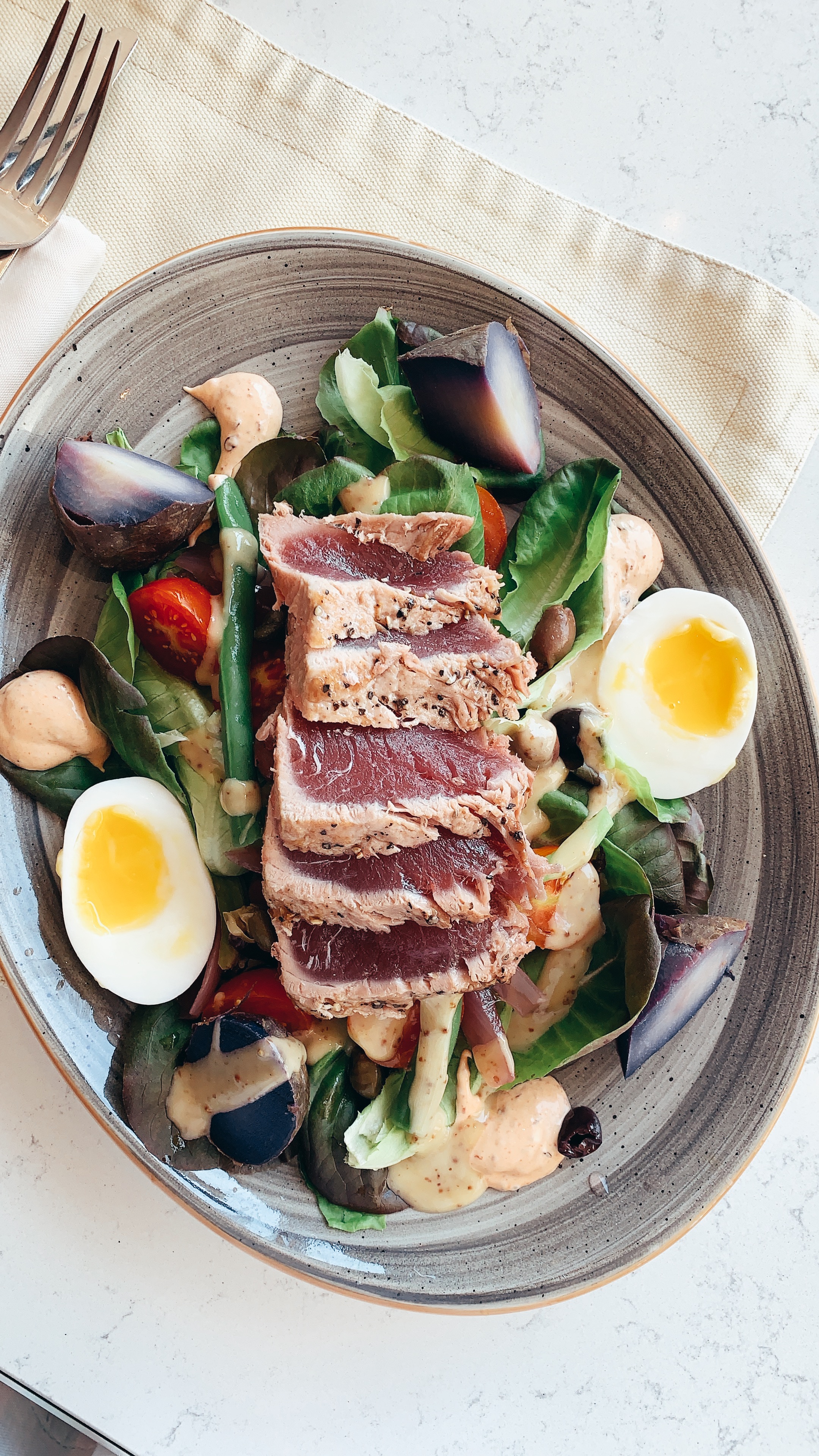 Lunch Time! 
There are actually 5 restaurants within the hotel, but I opted for the lobby restaurant which was delicious! I got a yummy and nutritious salad with fresh seared tuna that really hit the spot. It was exactly the refuel meal I needed after airport food.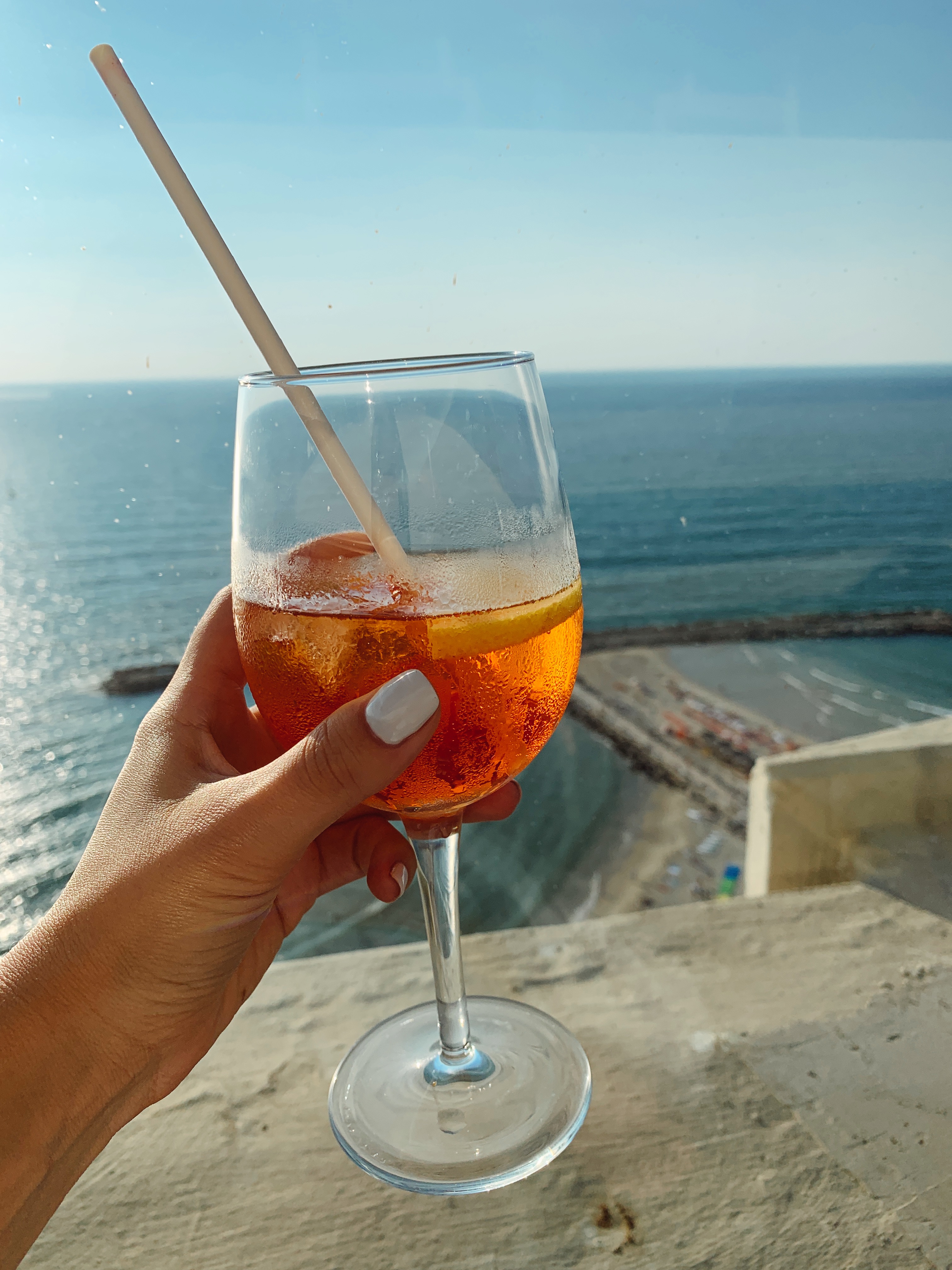 Now for that Aperol Spritz
I was so tired so I ended up heading back to the lounge for an aperol spritz and listened to music on the balcony. As I mentioned, there is a make your own aperol spritz station that I simply could not resist!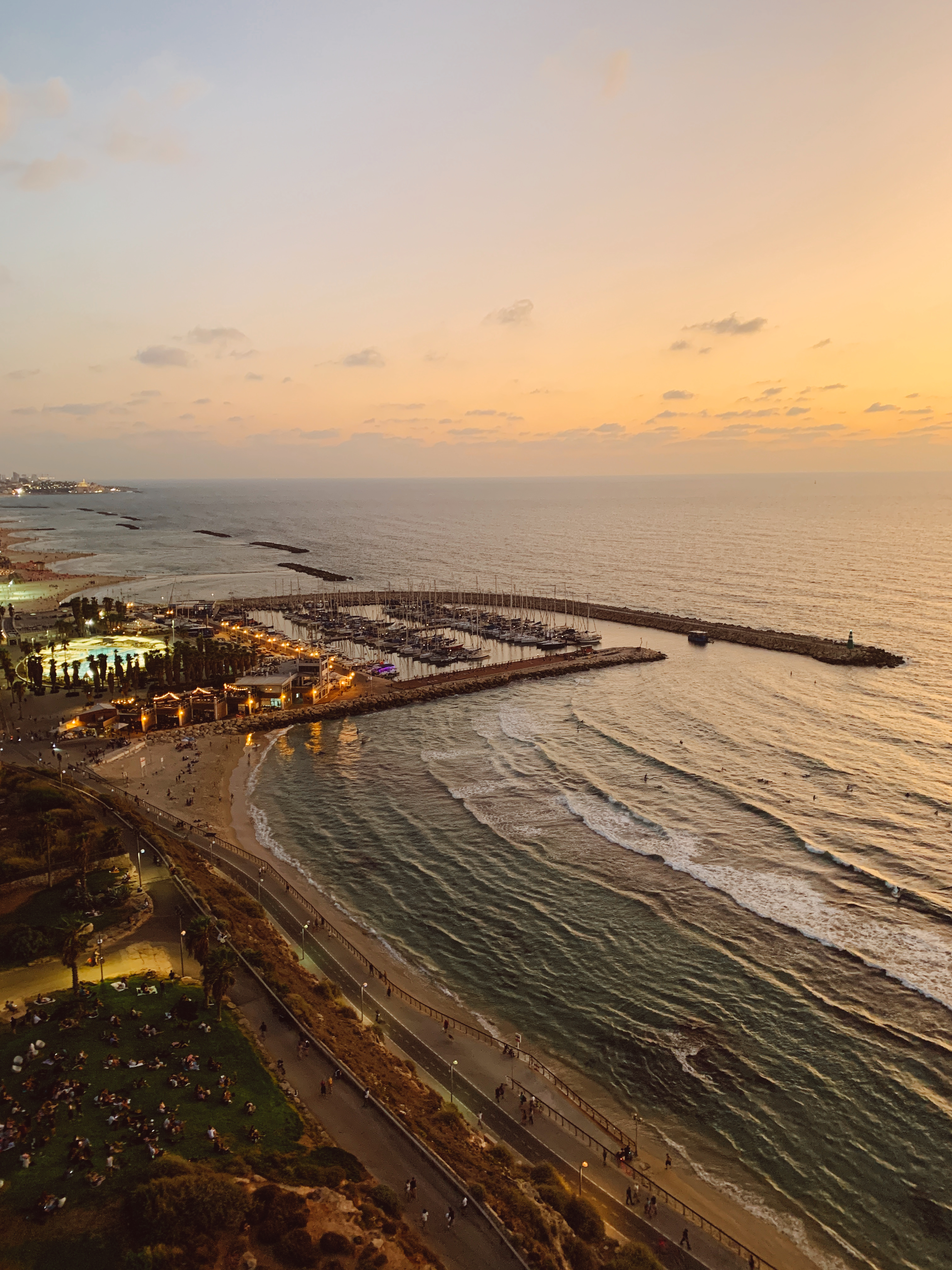 Tel-Aviv Sunsets:
After freshening up in my room, I watched the sunset from my balcony. Not many things beats the Tel-Aviv sunset, which can be viewed from anywhere on Tel-Aviv's coast line. Side note: you can walk the entire Tel-Aviv coastline from the port to Jaffa, and if you ever choose to do so at Sunset you're in for a treat! 
Dinner at Vista Lounge:
I was told there was a "light dairy dinner" in the lounge, and when I arrived I immediately started to laugh because it was a massive (not so light!) spread of fresh vegetables, fish, soup, and pasta! BEYOND DELICIOUS!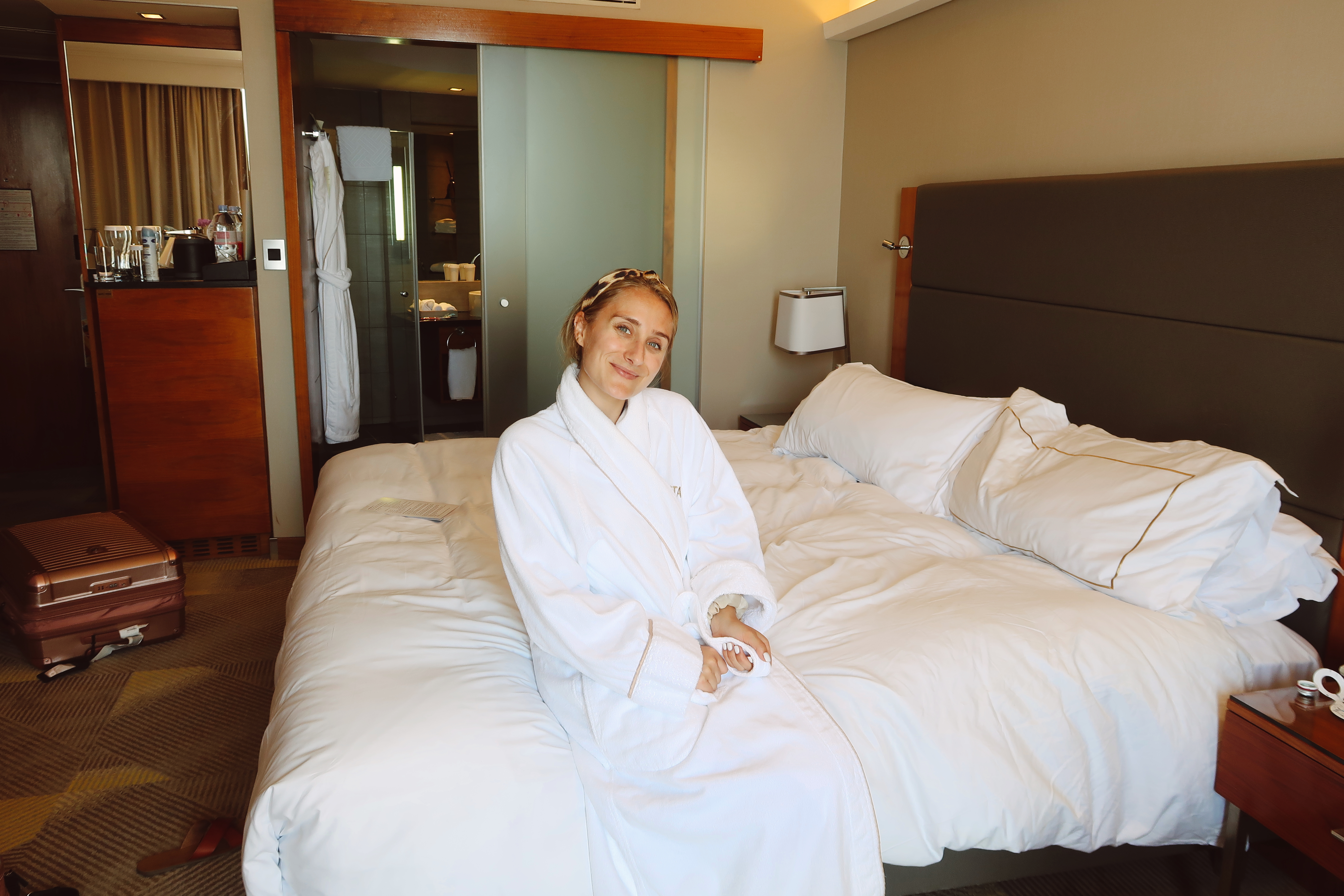 Winding Down 
Somehow I pushed myself to stay up until 11pm! I got back to the room and there was chocolate on my pillow and water beside my bed 🙂 The bed was beyond comfortable and I had a glorious sleep.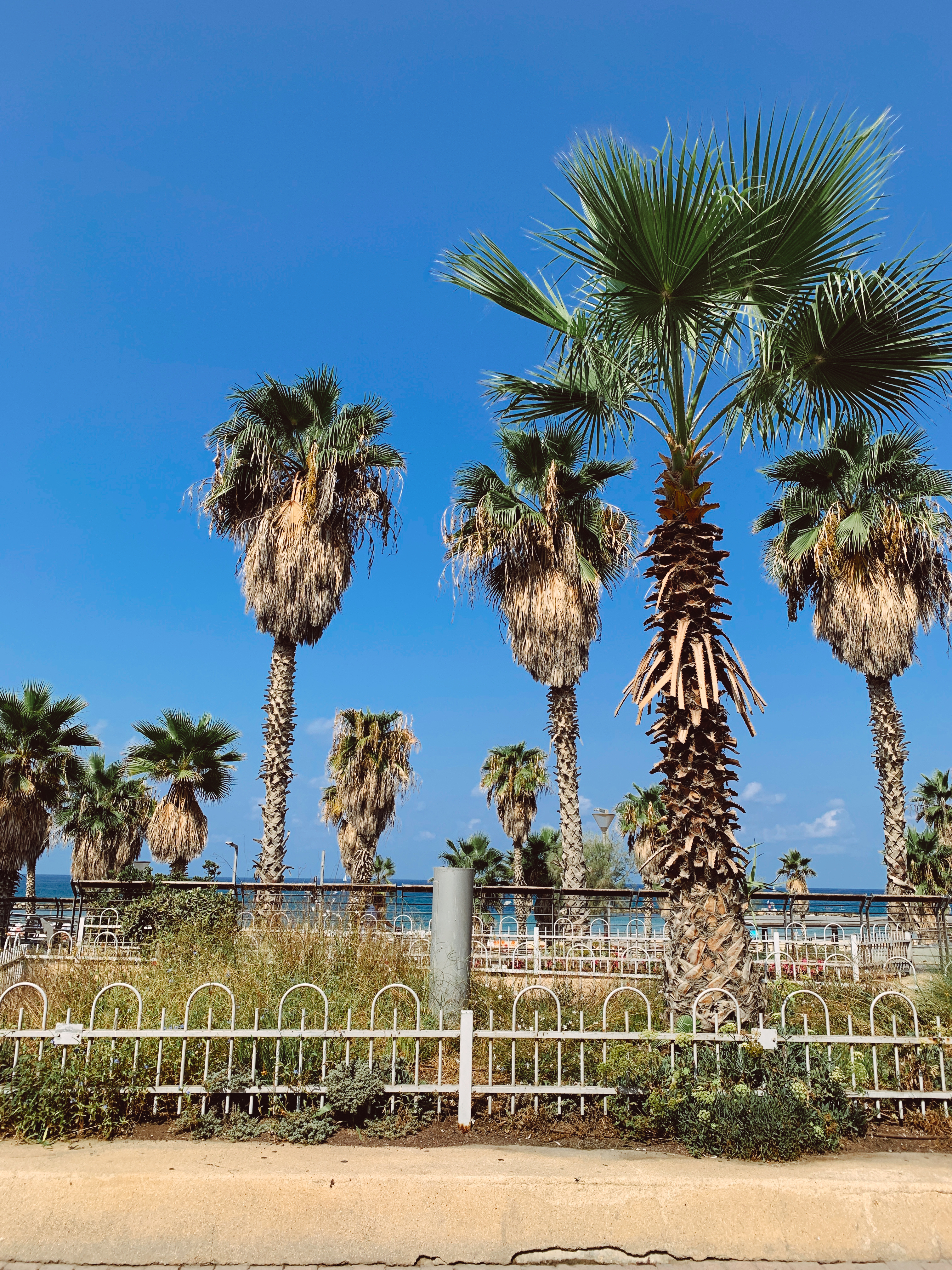 The next morning I went on a long walk on the boardwalk followed by breakfast at the Vista and spent the rest of the morning at the pool!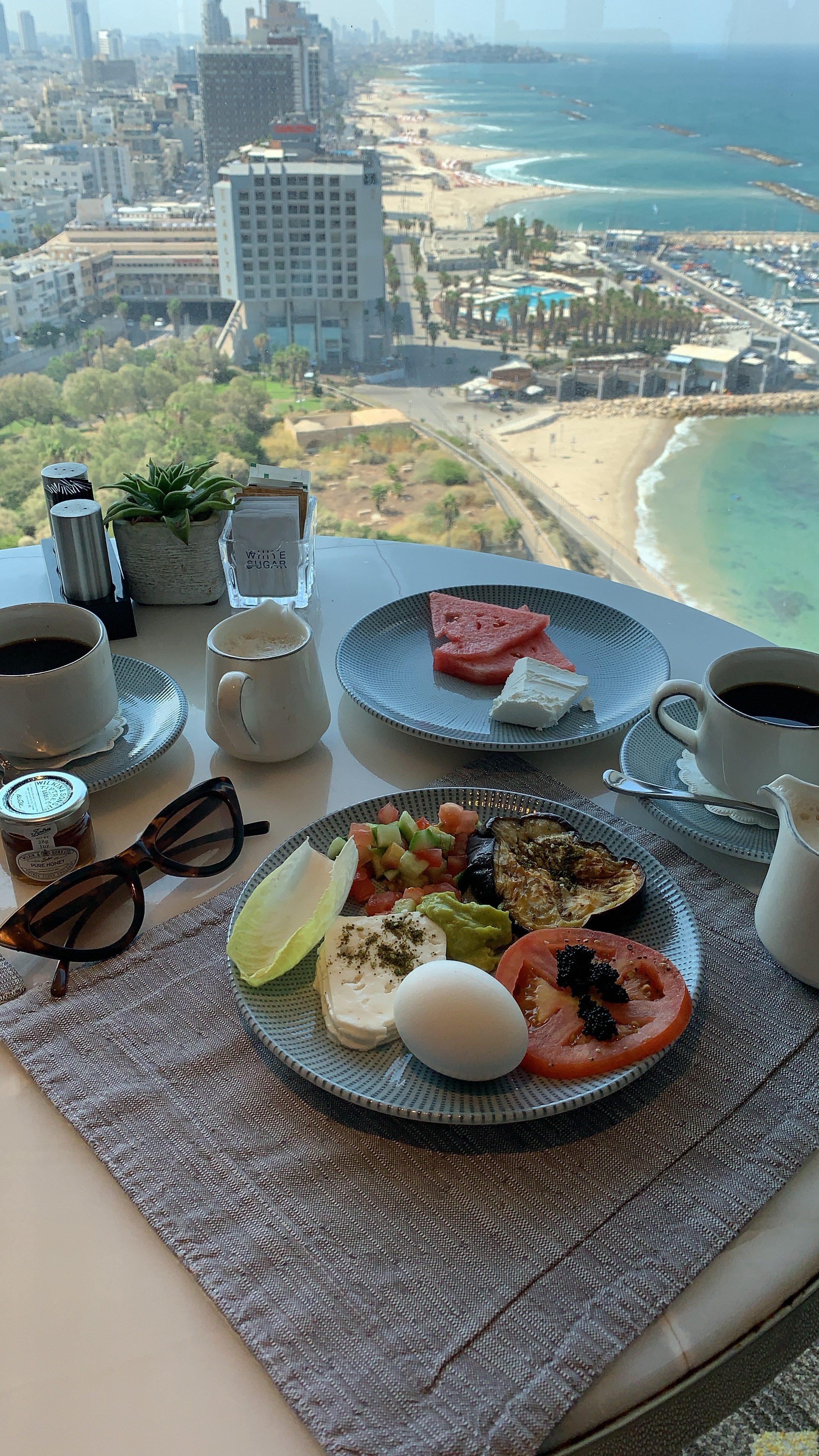 All in all, I would HIGHLY recommend The Vista at Hilton 🙂 I had the best experience!
xo