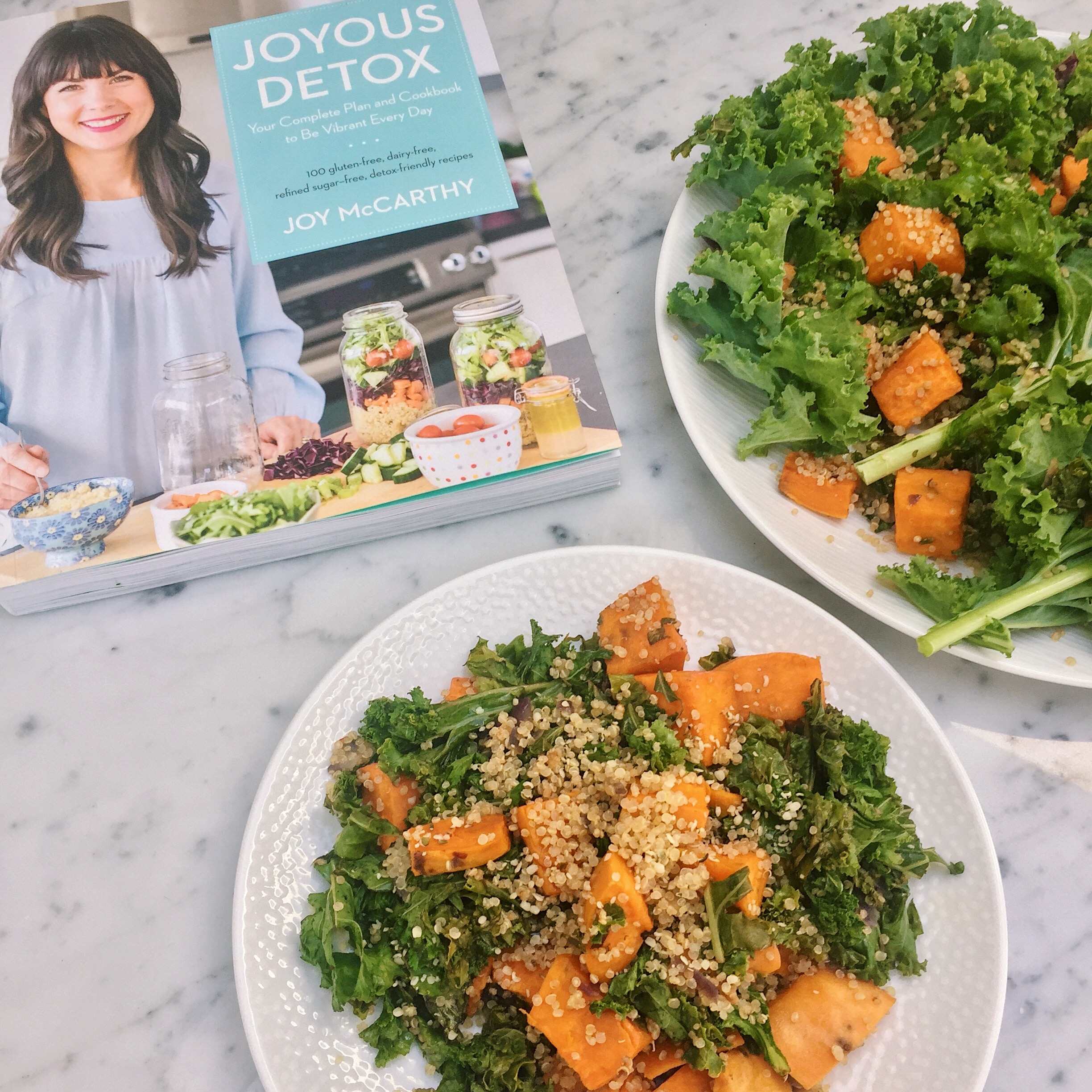 If you follow me on Instagram, you probably know I have been loving Joy McCarthy's latest cookbook "Joyous Detox". Joy and I share in a similar philosophy that being healthy should taste good, while providing your body with clean, wholesome ingredients. The word "detox" may sound scary and overwhelming, but really it means honouring your body. To 'detox' isn't to stop eating. In fact, it's all about fuelling your body with foods that stimulate natural detoxification of the body.
A detox shouldn't be a crash diet, or a 'once a year' kinda thing, it should be a daily ritual.
I wanted you guys to share in my love for her cookbook, so 1 lucky i hart fan will receive a free cookbook- check out the details on my Instagram account @ihartnutrition
Below I share one of my favourite recipe's from the Joyous Detox Cookbook:
Warm Sweet Potato Kale Bowl with Quinoa:
It's easy to make, healthy, and undeniably delicious!
5 reasons i ♡ this recipe:
It's Vegan
The Kale – excellent source of Vitamin K needed to support bone health
The Sweet potato- promotes healthy skin and collagen growth
Olive oil- protects the body from inflammation in the body
Quinoa- high in protein that contains all of the essential amino acids
Warm Sweet Potato Kale Bowl with Quinoa from Joyous Detox Cookbook:
This recipe has been a Joyous Health blog reader favourite for years. Kale is a detox superfood, and sweet potatoes are the perfect comfort food, so combining them together in this wonderful dish just made sense! I hope it becomes a favourite of yours too.
Makes 2 to 4 servings
Vegan Gluten-free Dairy-free Sugar-free
2 sweet potatoes (unpeeled if organic), chopped into small cubes
½ red onion, finely chopped
2 tbsp (30 mL) extra-virgin olive oil, plus more for drizzling
Sea salt and pepper
6 large kale leaves, centre stems removed, cut into bite-size pieces
1 tbsp (15 mL) balsamic vinegar
1 cup (250 mL) cooked white quinoa
1 tbsp (15 mL) sesame seeds
Preheat oven to 375°F (190°C).
In a bowl, toss sweet potatoes and onion in 1 tbsp (15 mL) of the olive oil. Spread evenly on a parchment-lined baking sheet and season with sea salt and pepper. (Set aside the bowl.) Bake for 25 to 30 minutes, until the potatoes are fork-tender. Return sweet potatoes and onions to the bowl.
Reduce oven temperature to 350°F (180°C). Spread kale on the same baking sheet and drizzle with balsamic vinegar and the remaining 1 tbsp (15 mL) olive oil. Bake for 6 to 8 minutes, until kale is slightly crispy on the edges. Watch closely because it burns easily. (You can cook the kale at the same time as the sweet potatoes if you like, but it will cook in less time because of the higher temperature.)
Add kale and quinoa to the sweet potatoes and mix together. Drizzle with extra-virgin olive oil, season with sea salt and pepper and sprinkle with sesame seeds.
Joyous Tip: If you don't have any quinoa on hand, use shelled hemp seeds instead. They are super convenient because they don't require cooking!
i hart note: I ended up only using 1 sweet potato, and chopped up some extra raw kale to add to the salad and topped with olive oil, fresh lemon juice, and some sea salt.
By: Jordana Hart- Toronto Nutritionist