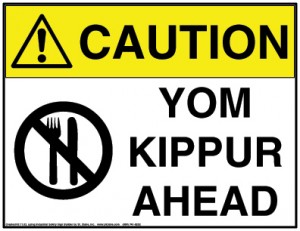 Fasting this Yom Kippur? Here are some helpful tips to make the fast easier:
Morning & Afternoon Pre Fast:
Remember that you are eating an early dinner….make sure to save room for this meal!
If you are a heavy coffee drinker, try limiting your intake to 1
Have a large breakfast, small lunch, so you can eat a normal size dinner
Choose foods that will sit well in your stomach and are easy to digest
Opt for fruits and herbal tea for dessert, sugary desserts will only create more cravings and make it a hell lot more difficult to fast
Limit sodium
Eat protein and complex carbohydrates: these give you long term energy
Do not over eat at dinner!
Remember that thirst is the real difficulty to overcome! Not hunger. DRINK LOTS OF WATER TODAY
Drink liquids with electrolytes (coconut water)
Day of Fast:
Take an afternoon nap
Overcome headaches and food cravings by sniffing spices (cinnamon and cloves)
Mind over matter: You can do it!
Breaking the Fast:
Do not eat anything too heavy
Make sure to drink lots of fluids and to eat slowly
Have a small cup of juice before the meal to release sugar back into your bloodstream
Do not over eat, I promise you will see food again!
Examples of Complex Carbohydrates:
fruit→ plums, pears, grapefruits
vegetables→ spinach, yams, carrots, cabbage
Legumes→ chickpeas, kidney beans, lentils
Whole Grains
Good Sources of Protein:
Lean chicken breast
Salmon
Tempeh (fermented soy)
Egg Whites