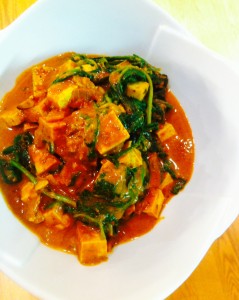 This healthy Indian dish is full of flavour, minus the fat & processed ingredients.
Why i ♡ Indian "Butter" Tofu:
DAIRY FREE
GLUTEN FREE
KOSHER
FULL OF PROTEIN
VOID OF REFINED INGREDIENTS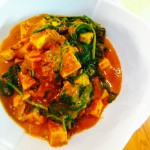 Indian "Butter" Tofu with Wilted Spinach
2014-04-28 18:55:15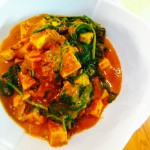 Ingredients
1 block extra firm organic tofu, sliced into cubes
1 1/2 pounds fresh spinach, stemmed and chopped
1 tbsp olive oil
1 small onion, finely chopped
2 garlic cloves, minced
2 tbsp grated ginger
2 tsp garam masala
1 1/2 tsp tumeric
1 tsp paprika
1 tsp ground corriander
1/2 tsp ground cloves
1 3/4 cups tomato sauce
1/4 cup cashew butter (almond butter will work too!)
1/2 cup unsweetened almond milk
salt & pepper
Instructions
Grease a baking sheet and toss in tofu cubes. Season with a pinch of salt. Place under a broiler at a distance of 6-8 inches for about 10 minutes or until slightly browned.
While the tofu is cooking, heat a a large cast iron pot on medium heat. Heat olive oil. Add in onion and cook for 3 minutes. Add in spices, garlic and ginger and keep stirring until onion is translucent 3-5 minutes. Stir in tomato sauce and almond milk. Place lid on pot and simmer for 5 minutes. Stir in cashew butter, salt & pepper.
Remove tofu cubes from the oven and stir into sauce. Once the tofu is coated add in the spinach and cover until spinach is wilted, another 5 minutes.
Notes
Serve over brown rice or quinoa
I Hart Nutrition https://ihartnutrition.com/