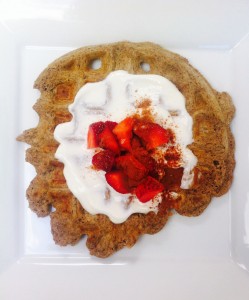 I created these waffles as a breakfast option for my clients during phase 1 of the ihartnutrition weight loss program. Feel free to try them out if you are seeking a grain free breakfast!
why i ♡ skinny waffles:
paleo
grain free
gluten free
dairy free (depending on protein powder you use)
high in protein
sugar free
Skinny Waffles- phase 1
2014-03-13 12:33:56
Serves 1
Ingredients
1 scoop vanilla protein powder
7 almonds
1 tbsp flax
1 egg white
1/2 tsp cinnamon
1/4 tsp baking powder
1/4 tsp baking soda
1/4 cup almond milk (any milk will do)
Toppings- 1/4 cup 0% vanilla yogurt, 3 chopped strawberries, cinnamon for sprinkling on top
Instructions
Heat up waffle maker
In a food processor blend almonds & flax and pour into a medium bowl
Add protein powder, baking soda, and baking powder to the flax/almond mixture and stir
Mix in the rest the ingredients and stir well
When the waffle iron is hot, spray with cooking spray and then ladle batter onto the center of the iron. Follow the instructions that came with your waffle maker to know how long it should be cooked (mine takes about 4 minutes each).
Notes
Top with yogurt & berries
**Feel free to top with pure maple syrup if you are not in phase 1 of the ihart weight loss program
I Hart Nutrition https://ihartnutrition.com/