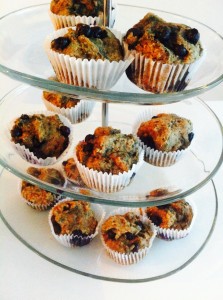 Try these yummy vegan muffins for breakfast/ snack or dessert!
why i ♡ blueberry spelt muffins:
Dairy Free
Spelt→ easy to digest & full of fiber!
Blueberries→ Rich in antioxidants which help reduce cholesterol & triglycerides
Coconut Oil → Contains lauric acid that helps kill bacteria, viruses & fungi
Bananas→ contains the amino acid tryptophan needed to produce feel good hormones
Raw Honey→ Relieves symptoms of nausia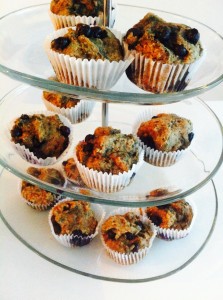 Blueberry Spelt Muffins (Vegan)
2014-03-23 18:07:44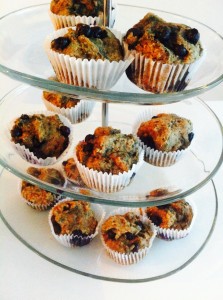 Yields 12
Ingredients
1.5 cups spelt flour
1 teaspoon cinnamon
1 teaspoon baking soda
1/4 teaspoon baking powder
1/4 teaspoon salt
1 tsp pure vanilla extract
1/4 cup pure raw honey
1/4 cup coconut oil (other oils will work)
1/3 cup unsweetened applesauce
1 ripe banana, puréed/mashed
2 tbsp almond milk (any milk will work)
1/2-1 cup frozen blueberries
Instructions
Preheat the oven to 350 degrees F. Line a muffin pan with liners and set aside.
Combine all dry ingredients in a large bowl.
Combine all wet ingredients in a medium bowl. (except blueberries)
Fold wet ingredients (except blueberries) into dry ingredients. Don't overmix.
Gently stir blueberries into the batter.
Scoop batter into muffin liners. Bake for 20 minutes and until tops are golden brown.
Notes
** May substitute 2 eggs instead of mashed banana (non vegan)
I Hart Nutrition https://ihartnutrition.com/