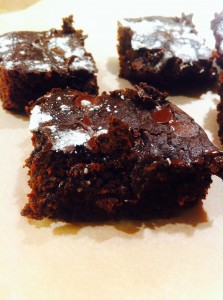 Last night while sipping on a cup of tea I had a sweet craving. Inspired by Skinny Taste's latest recipe I decided to bake brownies…healthy brownies that is.
So, how do you make brownies healthy & taste great? It's all about being creative. The secret ingredient in these brownies is black beans! (ew, gross, yuck, get over it… you can't taste them in the brownie) The black beans are used in place of flour to create a moist texture & decadent flavour.
Whenever I prepare dishes I look for recipes that are nutrient dense, well balanced and full of healthy ingredients. I veer away from desserts that are laden with white sugar, bad fats and refined flours. (I also veer away from fake deserts full of splenda, aspartame, and other garbage)
These brownies have less than half the fat & calories found in your typical brownie.
Why i ♡ Healthy black bean brownies: GLUTEN FREE & FLOUR FREE
Black Beans: full of fiber which supports the digestive tract, keeps you full, and is an AWESOME source of molybdenum, a trace mineral which helps the kidneys remove waste form the body
Coconut Oil: contains lauric acid which kills bacteria, viruses & fungi
Cacao Nibs: (cacao is basically raw chocolate) Raw cacao nibs have an impressive nutritional profile (high in fiber, antioxidants, magnesium, iron- to name a few)
p.s still unsure about black beans in a brownie? I did a taste test with my most difficult critics (my family) no one believed the brownies were healthy nor could anyone identify the secret ingredient… 🙂
Recipe Card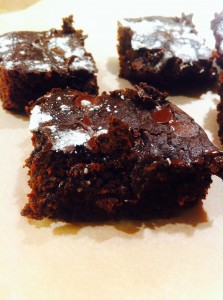 ihart skinny black bean brownies
2014-02-09 19:28:14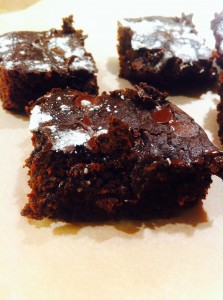 Ingredients
1 can (14 oz) canned low sodium black beans, rinsed & drained
2 large eggs
1/4 cup cocoa powder
1/4 cup raw cacao nibs ( or sub more cocoa powder)
3/4 cup cane sugar (you can use maple syrup, brown sugar, or white sugar)
2 tsp coconut oil
2 tbsp unsweetened applesauce
1 tbsp almond milk (or any milk)
1 tsp balsamic vinegar
1/2 tsp baking powder
1/2 tsp baking soda
1 tsp coffee grounds or instant coffee
3/4 cup semi sweet chocolate chips
1 tsp powdered sugar for dusting
Instructions
Preheat the oven to 350° F. Line a 9x9 inch baking pan with parchment paper, leaving a 2 inch overhang on all sides.
In a food processor or blender combine first 12 ingredients (everything but choc chips & powdered sugar) blend until smooth. With a spoon stir in 1/2 of the chocolate chips.
Pour the batter into the lined pan and sprinkle the rest of the chocolate chips on top. Bake the brownies for 30-32 minutes.
Sprinkle powdered sugar on top. Allow brownies to cool for at least 10 minutes before cutting into squares.
Notes
I like keeping the brownies in the fridge!
Make sure to let the brownies cool before slicing or they will crumble.
Adapted from Skinny Taste
Adapted from Skinny Taste
I Hart Nutrition https://ihartnutrition.com/