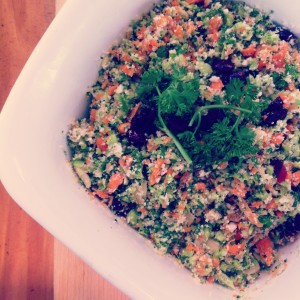 Excited to say I made my own version of the Whole Foods "Detox Salad"…and it was a success! I am always in awe when I go to Whole Food's salad bar. They offer an amazing variety of healthy, tasty, & delicious foods. I attempted to totally mimic the Detox Salad, but then realized I was missing some ingredients. I substituted with what I had and it was still delicious.
The typical detox salad consists of cauliflower, broccoli, carrots, sunflower seeds, currants, parsley, lemon juice, raisins, kelp granules, salt, pepper. (I used slivered almonds instead of sunflower seeds, herbamare instead of kelp granules, dried cranberries instead of currants & I also added in avocado oil & a bit of maple syrup)
This salad is perfect as a light lunch, side dish & a great option to bring to a potluck!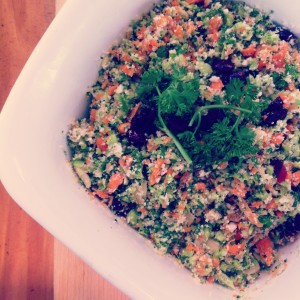 Detox Salad
2014-01-30 11:10:43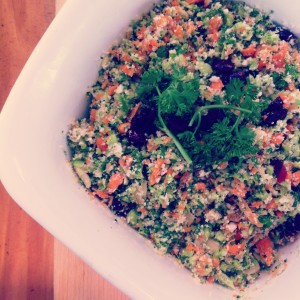 The ihartnutrition version of the Whole Foods "detox salad"
Ingredients
1/2 head broccoli, finely chopped (stems removed)
1/2 head cauliflower, finely chopped (stems removed)
1 large carrot, finely chopped
Juice of 1 lemon
1/2 cup raisins
1/3 cup slivered almonds
1/2 cup dried cranberries
3/4 cup parsley, finely chopped
1 tbsp pure maple syrup
2 tbsp avocado oil (any oil will do- NOT Canola oil though because I do not ♡ it at all!)
Herbamare
Salt & pepper
Instructions
In a food processor process the broccoli, add to large bowl
Now process cauliflower (make sure not to process for long you do not want a paste), add into bowl
Process carrots, add to bowl.
Stir in the rest of the ingredients
Notes
-Try to avoid using the broccoli & cauliflower stems (Do not throw these out! Use in a juice, or freeze to use in a vegetable stock)
- If you do not have a food processor, chop VERY finely
Adapted from Whole Foods
Adapted from Whole Foods
I Hart Nutrition https://ihartnutrition.com/