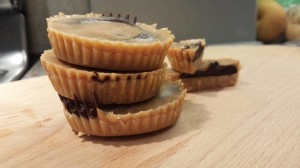 After much anticipation my healthy Reese's Peanut Butter Cup recipe is up! For those of you who do not know, I freaking die for peanut butter and chocolate. The combo is just simply divine. Given my love for peanut butter & chocolate, Reese's peanut butter cups are. like. too. good. mouthwatering. mmm. Reese's pieces are obviously amazing, but I tend to avoid them because they are BAD for you. Why? They are totally fake & full of white sugar, hydrogenated peanut butter, Oh, and they make you fat! After viewing various peanut butter cup recipes I created this recipe full of real unprocessed ingredients…and they are too die for!
Why i ♡ these peanut butter cups:
coconut oil → boosts brain function
maple syrup → contains antioxidants
protein powder→ amino acids
peanut butter powder → great peanut butter taste, minus the fat!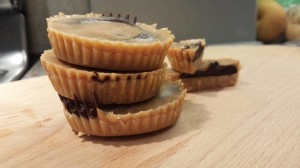 Healthy Peanut Butter Cups
2013-11-23 14:04:52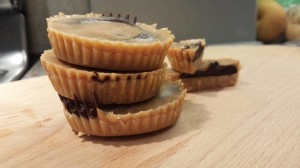 Ingredients
1/4 cup coconut oil melted (I use the unflavoured/non scented one
4 tsp pure maple syrup
½ tsp vanilla extract
½ cup PB2 Peanut Butter Powder
1 tbsp vanilla protein powder (optional) I used it though!
2 tbsp or more of melted semi sweet chocolate
Small muffins liners
Instructions
In a medium bowl mix together the first 5 ingredients to create a smooth paste.
Line a muffin tray with 7 liners & pour just less than 1 tbsp of the paste into each liner.
Place into freezer for 10 minutes
While the liners are in freezer melt the chocolate in a small glass bowl. (Does not have to be liquid- I usually micro 30 seconds, mix a bit and another 30 seconds until chocolate is melted/still a bit lumpy)
Take tray of liners out from freezer- spoon a bit of chocolate into each tray, and top with remaining peanut paste.
Freeze another 10 min and enjoy!
Notes
Keep the peanut butter cups in the freezer/fridge
I Hart Nutrition https://ihartnutrition.com/