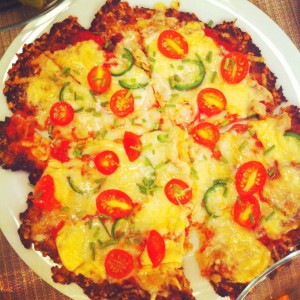 For the past few months I have been hearing left right and centre about cauliflower pizza crust. I am always down to try and make new things, but the idea of cauliflower crust did not really appeal to me. I mean, if I am going to splurge and eat pizza…I am going to eat PIZZA.
I started to explore the craze and came across many variations of cauliflower crust. This CARBless crust has become quite a phenomenon in the paelo world, and is great for those limiting their intake of carbohydrates. Be prepared because it does have a different taste than your typical slice of pizza, but it is still delicious.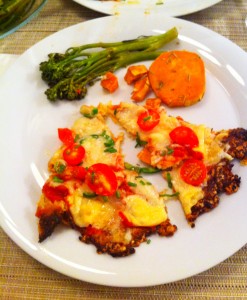 I adapted Lauren Conrad's Cauli Crust and came up with my own IHART doughless pizza crust. Last week me and my friend Carly tried out the recipe- and it was a delicious SUCCESS! We also made some nutritious sides: balsamic olive oil broccolini, and rosemary sweet potatoes.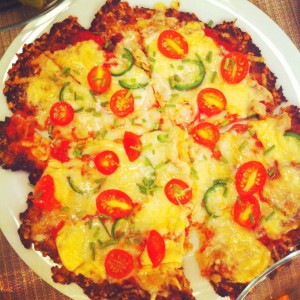 Cauliflower Pizza
2013-11-22 15:25:20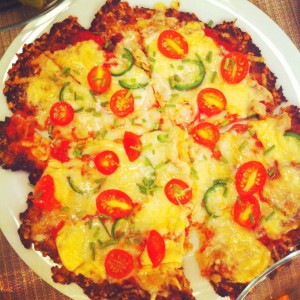 Ingredients
3 cups of raw riced cauliflower
3/4 cup shredded part skim mozzarella cheese
2 tbsp parmesan
1 egg & 1 egg white
1 tsp dried oregano
½ tsp dried basil
1 clove garlic, minced
Salt & pepper
Toppings- pizza sauce, shredded cheese, and whichever toppings you desire
Instructions
To "rice" cauliflower – Take 1 large cauliflower, remove stems and leaves and cut up into chunks.
Add to food processor and pulse until the cauliflower looks like crumbs/grains. (Grate the cauliflower if you do not have a food processor) Make sure not to over pulse, or else you will get puree.
Scoop out 3 cups of cauliflower and place into large bowl & microwave for 8 minutes.
Remove from microwave and let cool.
Stir in the rest of the ingredients to the cooled cauliflower mix and form a small ball of "dough" using your hands.
Transfer "dough" to baking sheet/ greased pan and pat out into a crust.
Bake at 450 for 15 minutes until golden brown.
Remove from oven. Top the pizza with tomato sauce and desired toppings. Cheese- I used a combo of light mozzarella, sharp cheddar, and fresh grated parmesan. Veggies- halved cherry tomatoes & green jalapeno peppers. Bake for another 5-7 minutes until cheese melts. (If you prefer cheese to be crispier broil for 1-2 minutes afterwards)
Top with chives & red pepper flakes!
Adapted from Lauren Conrad
Adapted from Lauren Conrad
I Hart Nutrition https://ihartnutrition.com/