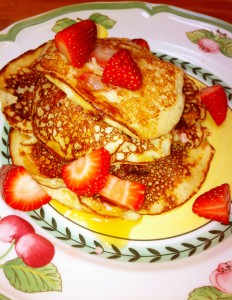 Early this week while sipping my morning coffee, I had a craving for something sweet…..Pancakes to be precise. After reviewing several recipes online I came up with oatmeal cottage pancakes. The combo may sound a bit odd but they were absolutely delicious, and of course nutritious. Regular pancakes are low in nutrients, high in fat, and loaded with sugar/carbohydrates!
These pancakes are easy to make, and HIGH in protein. In fact- you get as much protein as you would from chicken breast. The base of the recipe is oats & cottage cheese!
*WHEAT FREE, VEGETARIAN, HIGH PROTEIN, HIGH IN FIBER
Why i ♡ these pancakes:
Cottage cheese → high in protein
Oats →high in fiber, promotes weight loss & a healthy bowel
Egg Whites→ high in protein
Strawberries→ full of antioxidants & phytonutrients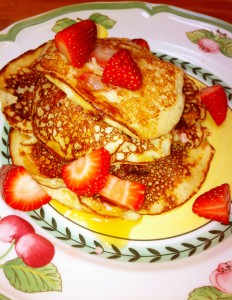 Skinny Strawberry Oatmeal Cottage Cheese Pancakes
2013-11-22 15:19:38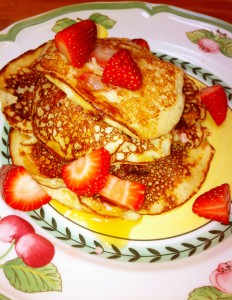 Ingredients
½ cup of rolled oats
½ a banana
1 tsp of cinnamon
1 tsp baking powder
½ tsp vanilla extract
2 egg whites
1/3 cup of low fat cottage cheese
1.5 tbsp of almond milk (use any milk you desire!)
Handful of sliced strawberries
Instructions
Blend all ingredients (except strawberries!) until smooth consistency about 20 seconds. Toss some strawberries into the batter, reserving some to include when the pancakes are done.
Coat a non-stick pan using olive oil or cooking spray and heat over medium heat.
Drop about 1/5th of mixture onto pan and place a few strawberries on top and cook until pancake is covered in bubbles. Flip pancake and cook until golden.
Spray pan again and repeat!
Drizzle on some pure maple syrup and throw a few more strawberries on top.
Notes
*For a gluten free option use gluten free oats
I Hart Nutrition https://ihartnutrition.com/