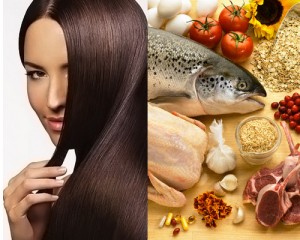 Hey there sunkissed hotties! I've talked about sunscreen protection for your skin but what about the effects of the sun in contributing to dry, brittle, lifeless hair?
Instead of running to the pharmacy for a new conditioner or hair treatment, why don't you try solving the problem from inside out.
A healthy, adequate diet, can encourage the luxurious locks you have always dreamed of!
My top choice: Omega 3 fatty acids:
Omega 3 fats are considered essential because our body cannot make them on its own. In other words, diet is the only way to provide your body with these nutrients. Omega 3`s do not directly cause hair growth but do promote healthy hair follicles, skin cells as well as scalp cells.
Sources of Omega 3 fats:
Cold water fish→ salmon, mackerel, sardines. (if you do not like fish consider fish oil supplements)
Flaxseed→ always use ground flax seed. Add it into your favourite cereal, yogurt, or smoothie! P.S. Make sure to store flaxseed in the refrigerator.
Walnuts→ consume raw walnuts for maximum nutrients
Acai→ the acai berry is considered a superfood native to South America. Purchase it as a powder from your local health food store and add a teaspoon to a smoothie!
Think Omega 3's are just for healthy hair?…..think again!
Why i ♡ omega 3:
Reduces inflammation in the body
Prevents blood clots
Regulates metabolism
Hormone production
Promotes healthy cells
Reduces eczema