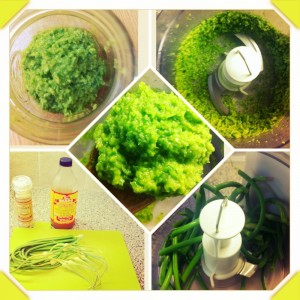 Did you know that garlic has two harvests? The first crop produces curly, deep green stalks called scapes which sprout from the garlic bulbs. Most gardeners discard them not realizing that these crazy, curly flower stems deliver a wonderfully mild garlic flavour. As edible as the bulb, they're not nearly as pungent.
Scapes have a short harvest season spanning the end of June and into early July. If you are a foodie, a health nut, or searching for something a little different, get your hands on some scapes while they're still available.
I purchased my scapes at The Big Carrot but you may get them at Whole Foods, St Lawrence Market or The Heathy Butcher
Why i ♡ garlic scapes:
Reduces blood pressure
Lowers cholesterol
Source of vitamin B6 & Vitamin C
Helps fight the common cold!
How to use scapes:
Try them steamed, stir fried, or sprinkled onto pizza. They're perfect for pesto. I like adding a garlic scape pesto to salad dressing, rubbing on grilled steak/chicken, pasta, and spreading on crackers.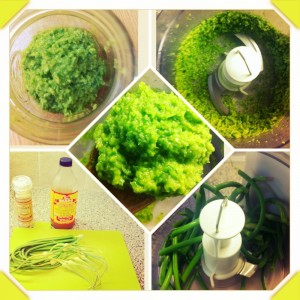 Garlic Scape Pesto
2013-11-22 15:09:29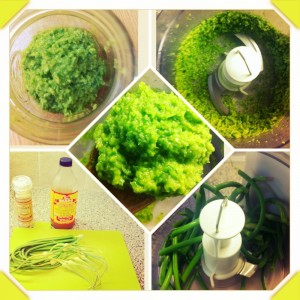 Ingredients
2 bunches of garlic scapes
Handful of fresh basil
2 tbsp of apple cider vinegar
1 tbsp fresh lime juice (optional)
1/2 cup of extra virgin olive oil
Pink/ Himalayan salt (available in health food and grocery stores).
Instructions
Cut the ends and tips off of the scapes, and chop into small pieces.
Combine all ingredients in a food processor, and pulse until a creamy pesto like consistency appears.
I Hart Nutrition https://ihartnutrition.com/