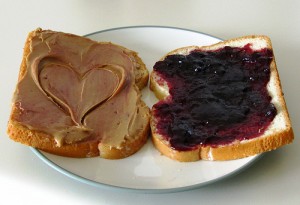 Peanut Butter and Jam is a staple in the North American diet and for good reason, it's divine! For much of my childhood, adolescence and young adult life I had a Peanut Butter and Jam sandwich daily. Not gonna lie, pretty much had a love affair with that stuff. And stop judging me… the average American consumer has roughly 1500 PB&J sandwiches by the time they are 18.
I always thought oh lucky me my favourite food is delicious and nutritious. Ummm…..not quite. Hydrogenated peanut butter, a.k.a the unnatural PB most of us are familiar with is full of sugar, and trans fats. The process of making the leading processed peanut butters requires adding hydrogen gas at high temperatures and excessive sugar into peanuts to create a smooth sweet product, which has a long shelf life.
If a product contains less than .5 grams of hydrogenated oils the product can be labelled "trans fat free". The issue is that companies can put as much as 8 grams of trans fats in a 16-ounce jar and still attach a label that says "No Trans Fats", because each serving has less then .5 grams. This is where moderation comes in. If you only have processed peanut butter on occasion you're in the clear. However; peanutbutterholics like myself can end up building up a decent amount of trans fats.
A lil bit about hydrogenated peanut butter:
Increases triglycerides
Increases cholesterol
May lead to heart disease
Toxic for the liver
Clogs arteries
I have removed hydrogenated peanut butter from my diet and now only have natural peanut butter in my house. I had to make this switch because it's a major weakness of mine- and trust it was not easy….In my nutrition program I wrote a speech about losing my best friend (peanutbutter..normal..I know.)
Solution: for the avid peanut butter lover, try incorporating natural peanut butter, or other natural nut butters into your diet. Whole grain toast, sugar free jam, and natural peanut butter is delicious and nutritious 🙂
A lil bit about Natural Peanut Butter:
Source of protein
B vitamins
Fiber
Sugar free
Chemical free
How to store it:
Because it is natural with no preservatives- keep it refrigerated. It is normal for the oil to raise to the top, just mix, spread, and enjoy!
ihartnutrition is not here to scare you, simply here to raise awareness so you can make conscious food decisions! But today is the National PB&J day so unless you're allergic, ihartnutrition says: INDULGE!
p.s shout out to my friend Michelle for reminding me about this fabulous day! Here is one of her natural peanut butter tricks: " For a little more "umph" add a bit of kosher salt, and honey to your favourite natural peanut butter"