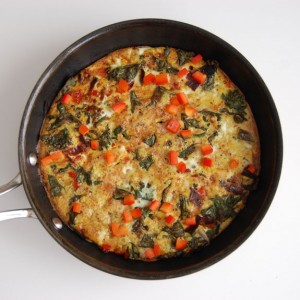 Typically we crave what we cannot have, and during this week it's bread, pasta, rice, etc! Because of these cravings, many of us end up going crazy for carbs: cakes, cookies, macaroons, kugels, potatoes, and excessive amounts of matzah!
This can easily be a week dedicated to health, not binging, so don't let your matzah consumption get out of hand!
If you find yourself feeling malnourished or unsatisfied by the standard matzah pizza, try making this Passover pizza frittata!
This delicious meal has a wonderful balance of fat, protein, carbohydrates, and leafy greens! This recipe works well with any veggies, so have fun and experiment.
Eat on its own, or with ½ a matzah slice, or ½ a fruit!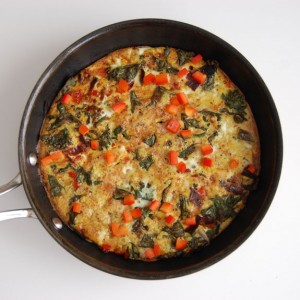 Passover pizza frittata
2013-11-22 12:58:56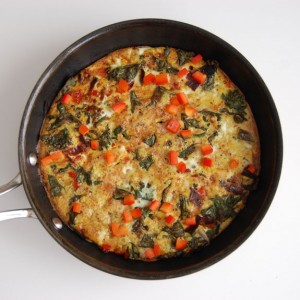 Ingredients
1 egg + 2 egg whites (if you are fatphobic , use 3 egg whites)
1 tbsp milk or water
Salt & pepper
1 tsp oil, or cooking spray
¼ cup tbsp of tomato sauce
¼ cup of shredded cheese
½ small onion, chopped
¼ cup of chopped red pepper
¼ cup of chopped zucchini
Handful of spinach or kale
1 tbsp crumbled goat cheese (optional)
1 tbsp avocado, diced
Instructions
In a small bowl beat eggs, liquid, salt & pepper
In a skillet over medium heat, sauté onion in oil/cooking spray for 2-3 minutes until onion is translucent
Add in egg mixture until almost set, about 2 minutes
Pour on tomato sauce and spread until even over the egg mixture (don't worry if the egg still seems runny)
Sprinkle shredded cheese over top, and top with the remaining vegetables
Add in crumbled goat cheese, and cover with lid for 4 minutes.
I Hart Nutrition https://ihartnutrition.com/