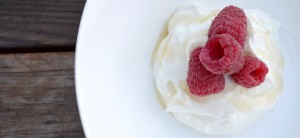 Does the following sound familiar?
"Okay, today's the day I am going to be so healthy!"… and then you realize you are stuck at work, your stomach has begun to growl, and you need a snack. You look around with the intention to purchase something somewhat healthy but realize your options are limited to a lame salad or a decadent snack…."Well, I'm not going to starve, better get that brownie"…..and then 5 minutes later….. "ugh, I'm hungry again"…
ihartnutrition is not blaming you for this choice, but wants to remind you that this situation can be easily prevented. Stay away from purchasing food on the go, by planning and preparing snacks ahead of time. Packing healthy snacks saves you money, nourishes your body, and keeps your tummy satisfied.
There are endless snacks you can prepare, but this Greek Yogurt Parfait is one that i ♡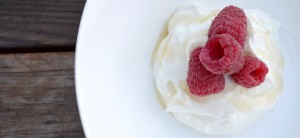 Greek Yogurt Parfait
2013-11-22 13:58:36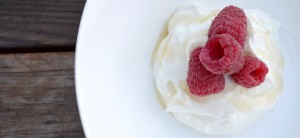 Ingredients
¾ cup of fat free greek yogurt (Liberte, President's Choice, Chobani, )
½ cup of raspberries
1 tbsp chia seeds (Mum's)
1 tsp cinnamon
Health Benefits
Excellent combination of fat, protein, and carbohydrates
Greek yogurt- high in protein, low in fat (has double the protein of regular yogurt)
Raspberries- high in vitamin C, manganese and fiber
Chia seeds- promotes weight loss, source of omega 3 oil, fiber
Cinnamon- anti microbial (stops growth of bacteria), controls blood sugar levels
I Hart Nutrition https://ihartnutrition.com/