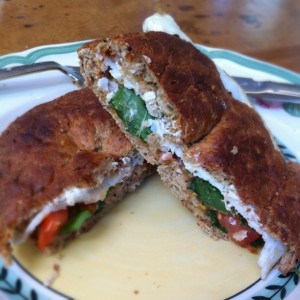 Normally I try to avoid bagels because they are loaded with processed grains stripped of their nutrient content, and might I add high in the carbs that make you fat.
At the Green Living Show I came across a brand called Silver Hills which uses all sprouted grains.
Why Sprouted Grains?
Sprouted grains are soaked in water for a few days prior to cooking. Sprouting maximizes nutrients by increasing vitamins, fiber, protein, and enzymes. Sprouted grains are digested slowly, keeping blood sugar levels stable, while leaving your tummy satiated for longer. There are about 15 grams of protein in a Silver Hills single bagel, which is double or even triple the protein content of the average bagel.
Why i ♡ my Sprouted Breakfast Sandwich:
Bagel- fiber, protein, vitamins
Egg white- protein, fat free, B vitamins
Basil- vitamin K, iron, calcium
Tomato-vitamin C, vitamin A, potassium
Margarine- I used it, but it's not HEALTHY (sorry)
Goat Cheese- easy to digest, protein, phosphorus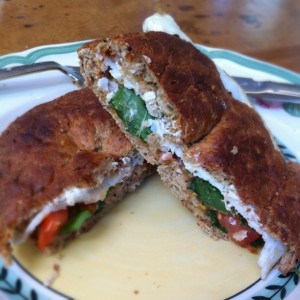 Sprouted Breakfast Sandwich
2013-11-22 13:19:10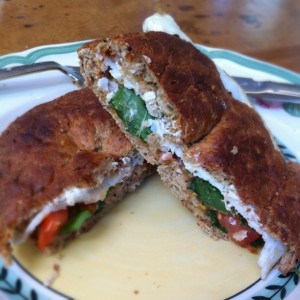 Ingredients
1 Herb's Garlic Silver Hills Bagel
1 egg white (feel free to use the yolk if you wish)
1 tbsp of dill goat cheese
1 tsp margarine
3 slices of tomato
A few fresh basil leaves
Salt and pepper
Notes
I scooped out some of the bagel, to lower the carbohydrates and protein. (I didn't need all of the protein because I was already getting from the egg white & goat cheese). I used an egg white and not a full egg because I was already getting fat from the goat cheese and margarine.
I Hart Nutrition https://ihartnutrition.com/