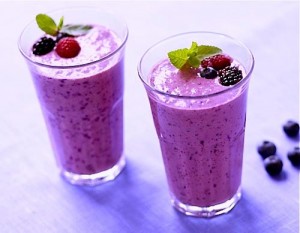 Smoothies are one of the top 5 ways to get healthy FAST. The nutrients are easily absorbed and you can throw in tons of healthy ingredients. Smoothies can be consumed as a meal or a snack, and are excellent to have post work out.
Frozen Berries (1/2 cup or more) blueberries, raspberries, strawberries, blackberries *no need to include more than 1/2 a banana.
Liquid (¾ cup or more) water, almond milk, hemp milk, coconut water.
Nut butter (1 tsp) peanut, almond, sesame.
Protein (15-30 grams) protein powder or greek yogurt.
Greens (handful) spinach, kale. OKAY… PAUSE. I know what you must be thinking "ew that's gross". I was a skeptic once too. However; I promise you do not taste the greens so you might as well add some in. So get over yourself and add a bunch of leafy greens into your next smoothie. (p.s. spinach and kale are tasteless, but I have not experimented with other greens yet).
Natural Sweetener (1 tsp) honey, maple syrup, coconut nectar, brown rice syrup.
Super Food (1 tbsp) chia seeds, hemp seeds, acai, cacao nibs, goji berries.
p.s If you are not crazy about "drinking a meal", add more ice to make it thick and pour it into a bowl and eat it with a spoon! You can add granola on top!