This time of year, I feel so inspired by the music, lights, energy, and overall cozy atmosphere. As a result, I have created some festive recipes, including my superfood bark which is 100% delicious and 100% nutritious. Before I dive into the recipe, I want to share a little more about the secret ingredient: prebiotics.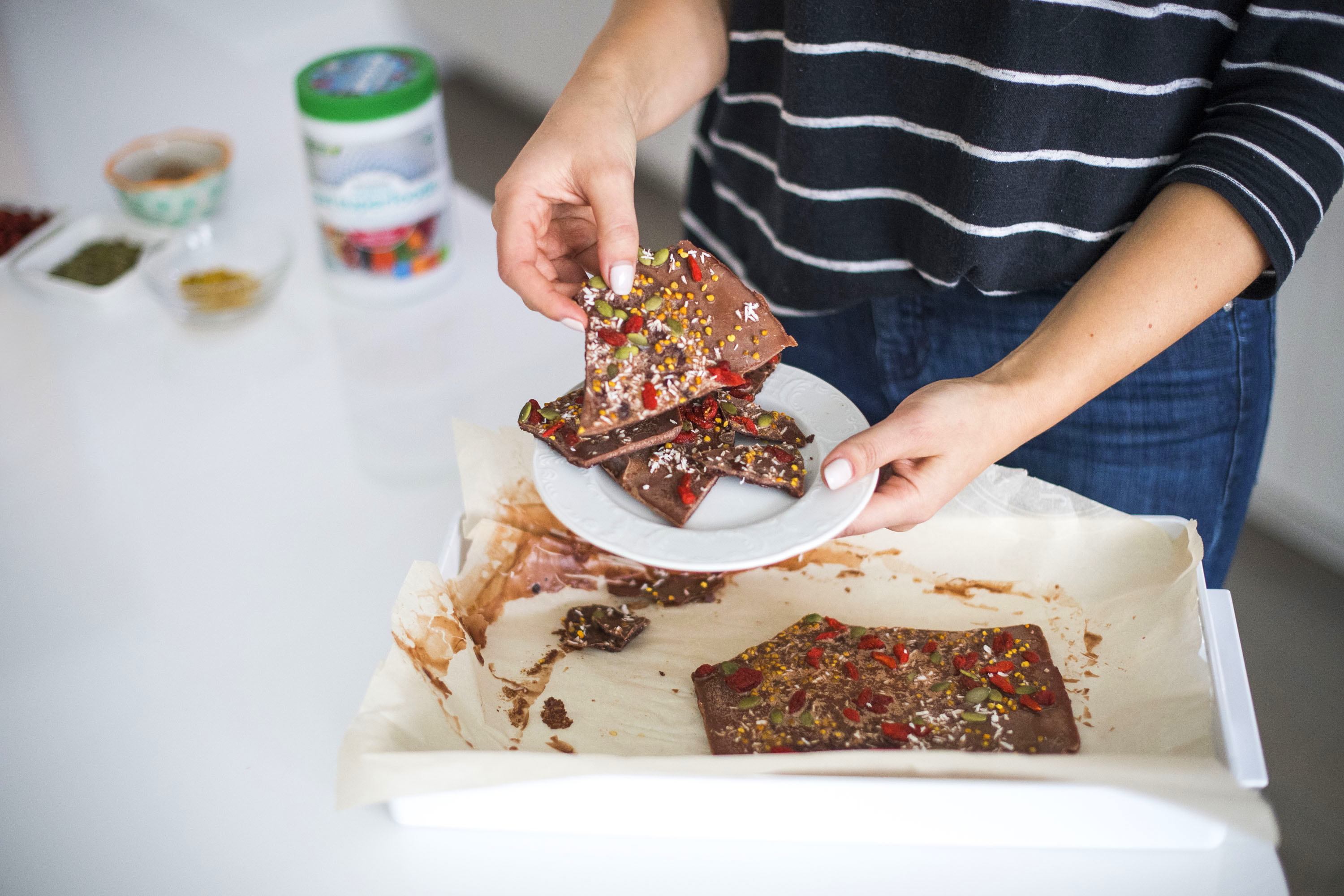 While many of us are familiar with "probiotics" (which is the live bacteria in our guts), less of us understand the importance of prebiotics. Prebiotics are undigestible plant fibres that feed the bacteria in our gut. I like thinking of probiotics and prebiotics as a team that works simultaneously to support immune health and aid in proper digestion.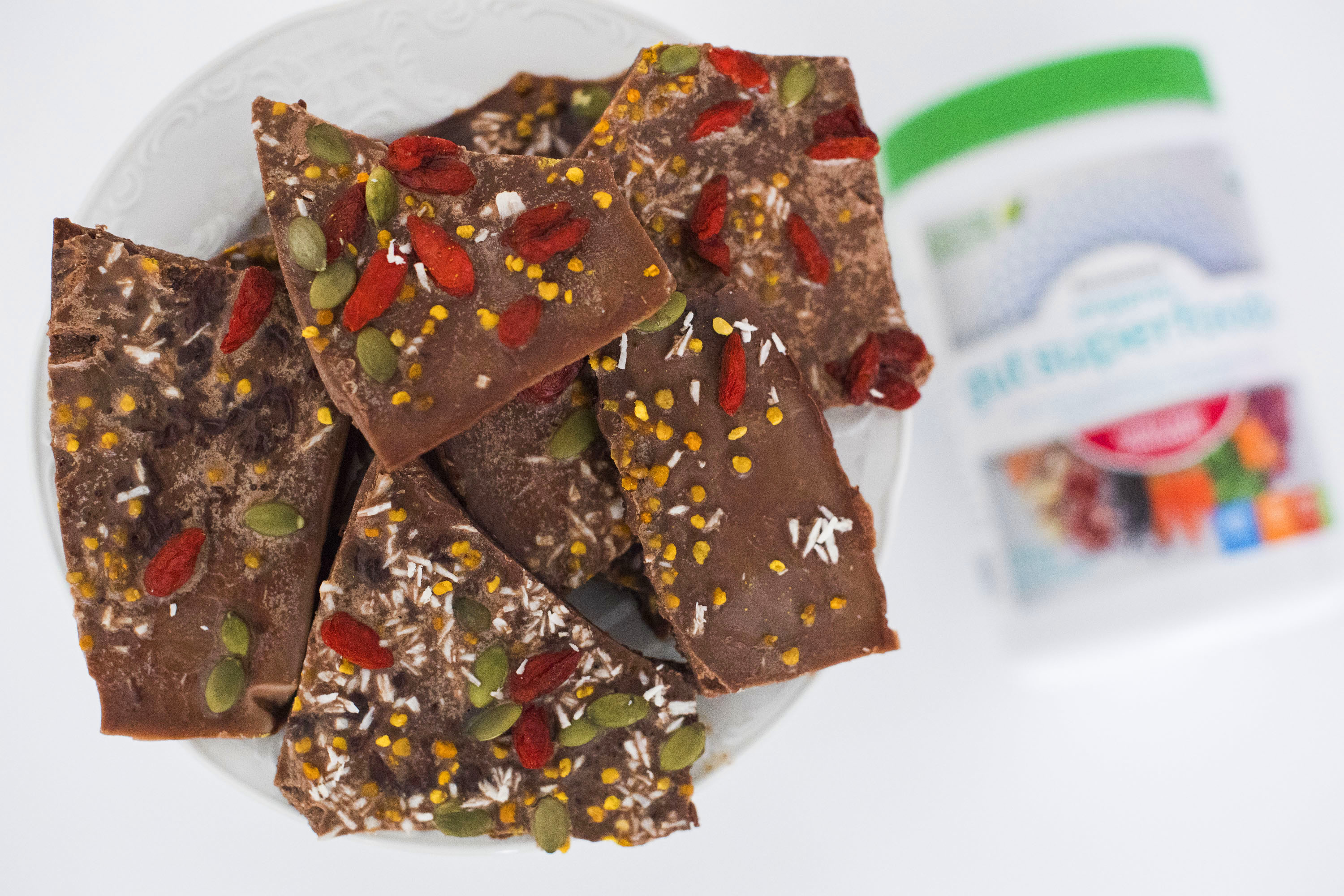 Considering fibre literally feeds the live bacteria in our gut it is vital to consume good quality fibre that does not irritate our digestive lining. Lately my go-to product has been Genuine Health's Fermented Organic Gut Superfoods+ because their formula is bloat free, and easy to incorporate into various recipes. It is derived from 21 organic plant-based superfoods that are rich in phytonutrients, all of which are vegan, dairy free, NON GMO, and gluten free.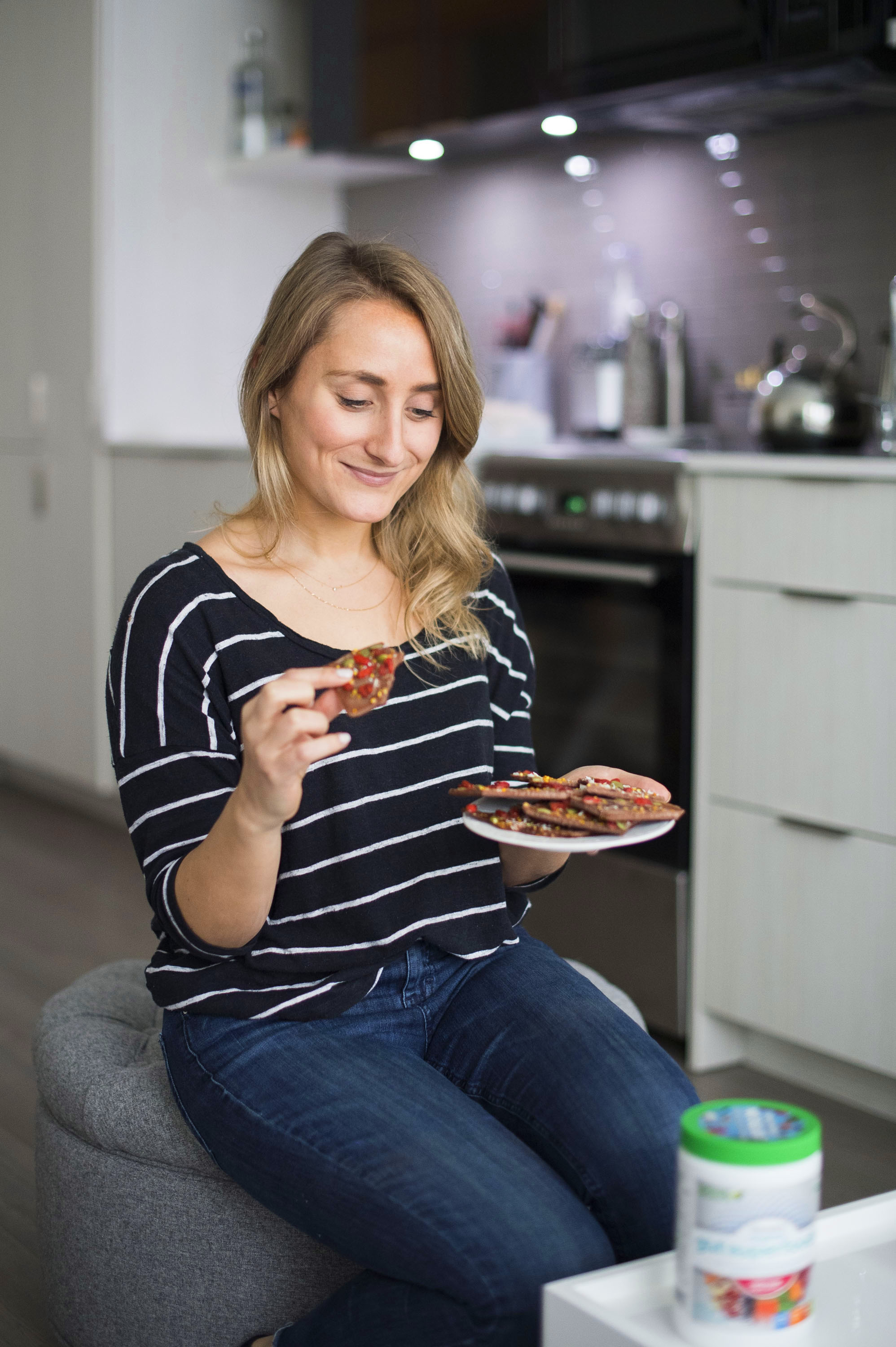 Typically I use this product is in a smoothie, and opt for the unflavoured powder which lets me pull the natural flavours from other raw ingredients. That said, I made this bark using the berry powder to try something a little more festive! It's a great snack, dessert, or yogurt topping! You can find Genuine Health fermented organic gut superfoods+ at many health foods stores in Toronto or you can purchase online from their site directly. Xoxo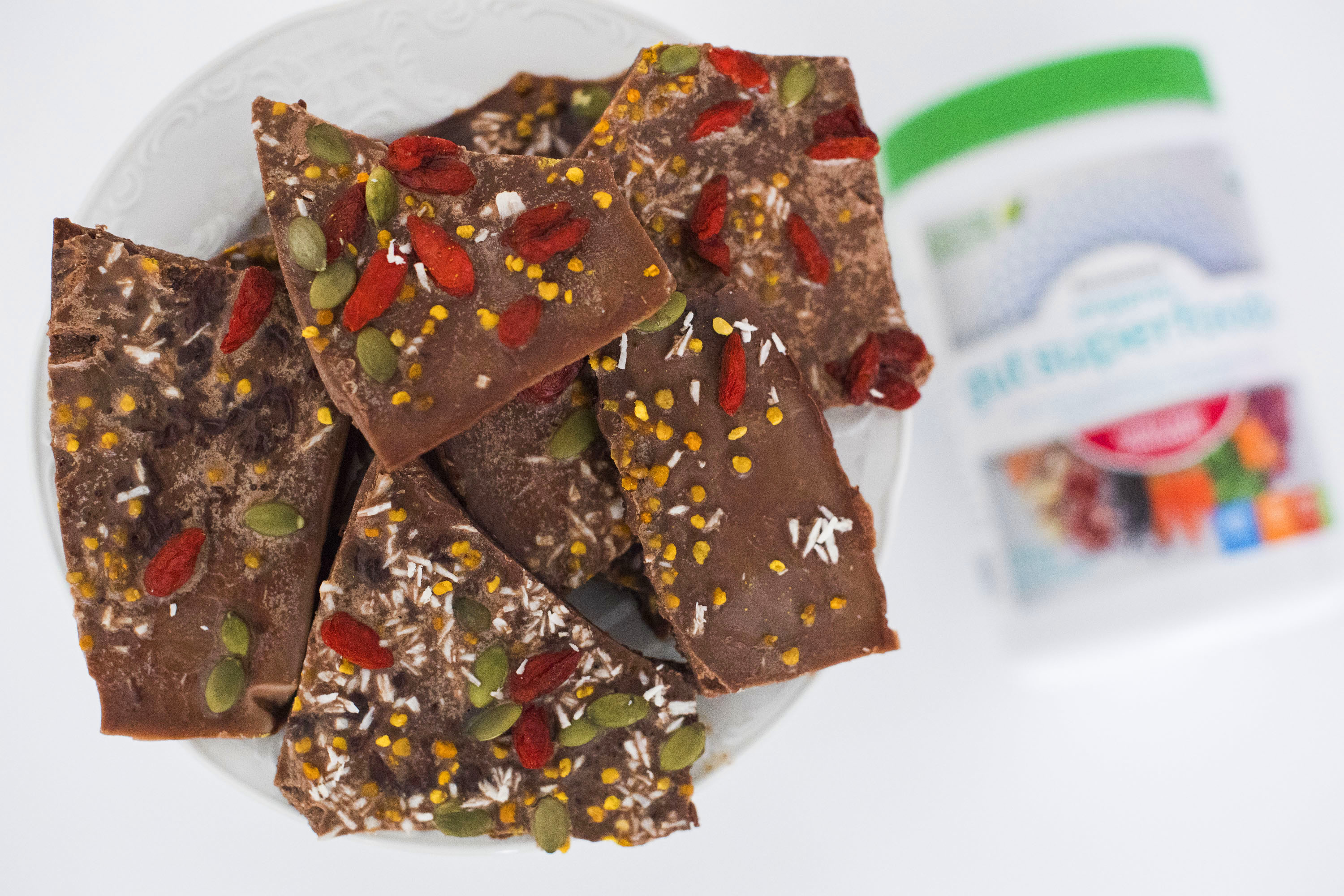 Superfood "Chocolate" Bark
2017-12-24 19:28:25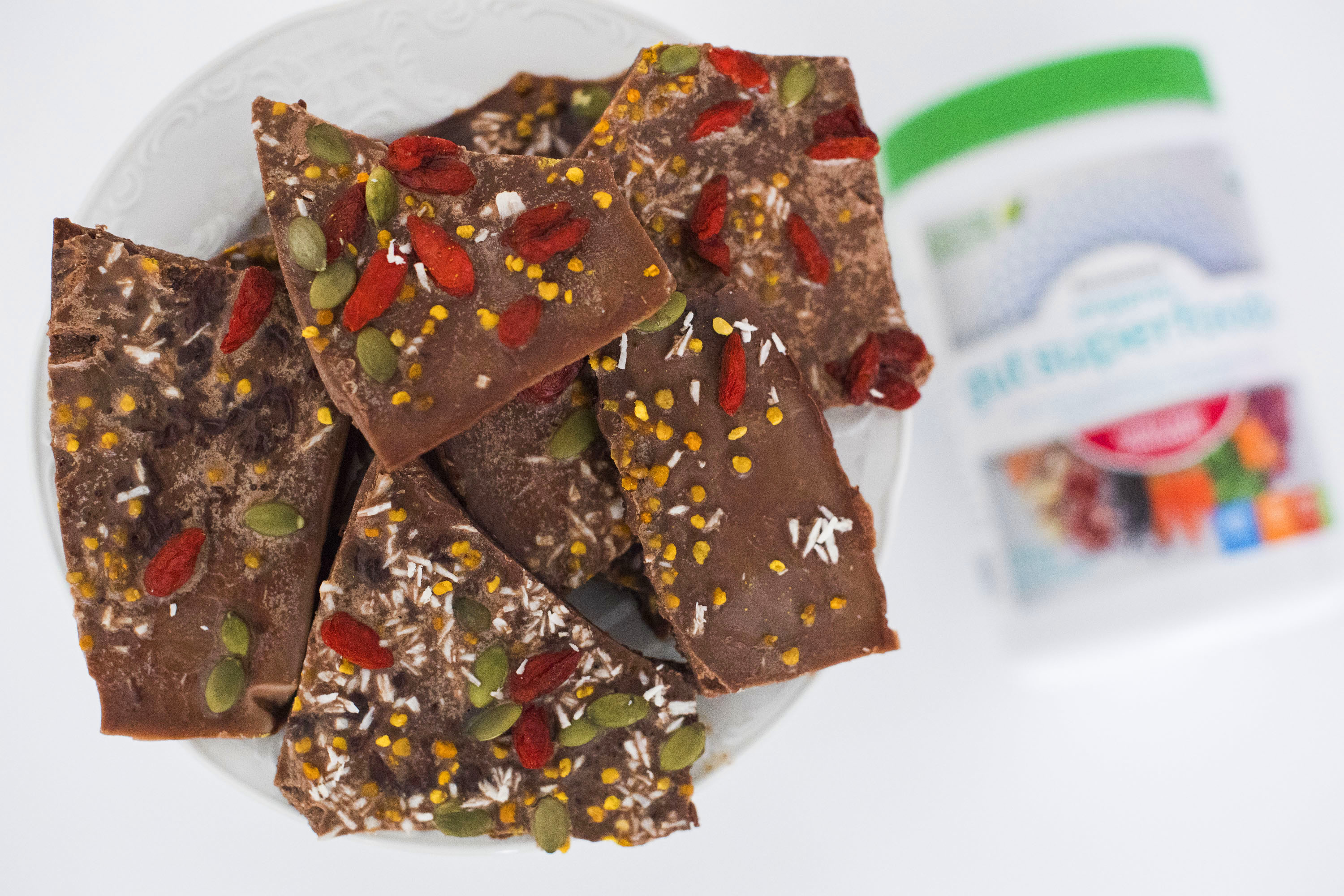 Ingredients
1/2 cup coconut oil
1/2 cup raw cacao powder
3 tbsp pure maple syrup
1 scoop Genuine Health fermented organic gut superfoods + ( you can also use the unflavoured one!)
1/4 cup goji berries
1/4 cup pumpkin seeds
2 tbsp shredded coconut
2 tbsp bee pollen
2 tbsp shredded coconut
Instructions
Line a 9-inch square pan or a small baking sheet with parchment paper
Melt the coconut oil in a sauce pan or microwave.
Once completely melted whisk in the cacao powder, maple syrup, pinch of salt, and gut superfoods +
Pour the mixture onto the prepared pan and sprinkle with the rest of the ingredients
Place pan in freezer for 40 minutes, or until completely frozen
Break the bark up into pieces and enjoy!
Notes
Store in freezer, because it will melt quickly!
I Hart Nutrition http://ihartnutrition.com/
#LoveHowYouFeel, #FoodForYourGut #Ambassador
all photos by Arthur Mola
Jordana Hart, Toronto Nutritionist